First retail customer takes delivery of a 2011 Nissan LEAF
by
KBB.com Editors
|
December 13, 2010 7:31 AM
Nissan North America kicked off the new era of mass-marketed electric vehicles this weekend by presenting the first production 2011 LEAF to a retail customer in Northern California. The car, a black LEAF SL, was presented to 31-year old Olivier Chalouhi (pictured at left), at North Bay Nissan of Petaluma. A resident of Redwood City, Chalouhi holds a masters degree in computer science from the French Aeronautical and Space School and is the founder of the connected TV space, Fanhattan. The LEAF will replace the Silicon Valley entrepreneur's electric bicycle on his daily 20-mile round-trip commute to work.
Nissan plans to follow up delivery of the first LEAF with a week's worth of vehicle presentations in each of the car's other primary launch markets in Southern California, Arizona, Oregon, Seattle and Tennessee. A second allocation of LEAFs will be presented to customers in these markets on December 20. As announced earlier, the automaker will start marketing the new LEAF in Texas and Hawaii early next year and plans to have the car available nationally by 2012. It also confirmed that it will reopen the LEAF ordering process sometime during the first half of next year and shift launch timing of additional marketing areas to the second half of 2011.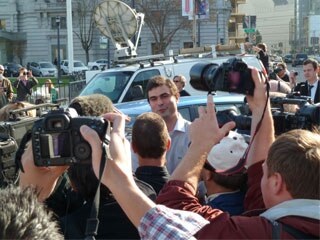 While clearly delighted that the first cars are now moving into customer hands, Carlos Tavares, Chairman, Nissan Americas, indicated the automaker is taking a cautiously measured approach to ramping up production at the plant in Oppama, Japan, where the new LEAF is currently being built. Speaking at a ceremony afterwards in front of the nearby San Francisco city hall, Tavares said that while the facility won't hit full stride until the second quarter of next year, all 20,000 people who were part of the initial LEAF reservation program would have their vehicles by summer's end.