First Drive - 2012 Buick LaCrosse eAssist
by
KBB.com Editors
|
March 28, 2011 1:04 PM
The word "hybrid" means different things to different people, but most folks envision Toyota's very fuel efficient but somewhat pricey Prius "parallel" hybrid hatchback, and cars with similar systems from Toyota, Ford and others, which seamlessly blend driving torque from both a gas engine and an electric motor. Then there are different variations of gas-electric hybrids such as Honda's "Integrated Motor Assist" and General Motors' more complex and expensive "two-mode" system available in full-size pickups and SUVs.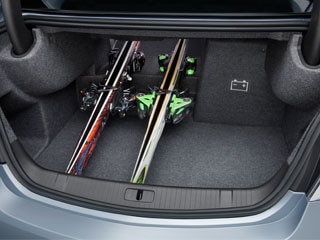 And there was GM's much less costly belt-alternator-starter (BAS) "mild" hybrid system offered in 2007-09 Saturn Vue and Aura "Green Line" and Chevrolet Malibu Hybrids. It coupled a small motor-generator to the engine through a high-tension belt to provide modest power assist for launch and acceleration and some regenerative braking (where the motor becomes a generator, driven by the wheels, to replenish the battery during deceleration). Not a big seller, BAS added roughly $2,000 to the price and boosted fuel economy just two-three mpg.
Now comes GM's vastly improved Generation II BAS, with a larger, more powerful 115V, 500 Wh (lithium-ion) battery and a more substantial 11 Kw (15-hp) electric motor coupled to a 182-hp direct-injected 2.4-liter Ecotec four-cylinder and a "next-generation" six-speed automatic transmission. But GM won't call it that, or even a "mild hybrid." Folks have strong perceptions of hybrid fuel economy, and they don't want to over-promise/under-deliver.
So it's simply eAssist, for "electric assist." Good for a 25-percent efficiency improvement over the 2011 four-cylinder, six-speed automatic LaCrosse, it will be standard -- an alternative to the (previously optional) V-6 -- in the roughly $30,000 2012 Buick LaCrosse. Official EPA ratings were not available as this was written, but Buick estimates that the eAssist LaCrosse will deliver an impressive 25 mpg city, 37 highway and 29 combined -- better than anything in its class.
"The additional 15 hp provided by electric assist allowed us to lower LaCrosse's gear ratio without sacrificing reserve acceleration and performance," says global eAssist chief engineer Steve Poulos. "For example, when climbing the grade of an overpass, a normal vehicle will downshift and lose some fuel efficiency, but LaCrosse with eAssist maintains gear for improved performance and increased efficiency."
eAssist shuts off fuel to the engine during off-throttle coasting and deceleration, but the engine and motor/generator keep spinning, ready to provide smooth, immediate power when needed. When you stop, the motor-generator helps bring the engine to a smooth stop, then smoothly restarts it when you lift off the brake. The battery provides 15 hp of electric boost for acceleration on demand, more than three times what was available from the previous BAS system. Regenerative braking, which happens whenever you're off the throttle, charges the battery to power the car's electrical systems with recaptured energy instead of fuel.
The eAssist LaCrosse is also more aerodynamically smooth with a drag coefficient of 0.300 vs. the standard car's 0.314, and it rolls on lower-rolling-resistance all-season tires to reduce its on-road energy usage. Underbody aerodynamics are improved by strategically-placed aero panels, and electronically controlled shutters in the lower grille close above 33 mph to push more air over and under the vehicle for increased aero efficiency.
The eAssist driving experience is best described as "transparent." With electric boost, the mid-size luxury LaCrosse accelerates more briskly than the 2011 four-cylinder version, though not as strongly as the 280-hp V-6 alternative, and drives normally. You barely notice the engine shutting down during stops (the tachometer needle drops to an "auto stop" position), and it restarts without the shudder typical of some hybrids when the light turns green.
An ECO gauge below the speedometer helps you optimize efficiency, while a central graphic shows electric power flow from battery to front wheels during boost and back during deceleration. There's also a hill-assist system that retains brake pressure to help you launch on uphill grades by reducing the tendency to roll back when you lift off the brake with the engine in shut-down mode. One down-side is that the air-cooled battery pack and control system reduce trunk capacity by about two cu. ft. to 10.9 cu. ft., though the folding rear seat is retained to provide a pass-through.
Buick says eAssist will become available on the size-smaller 2012 Regal sedan in late 2011, and we're betting it will expand to other GM vehicles as both customer and government fuel economy demands increase. And it works surprisingly well to significantly improve a vehicle's fuel efficiency without degrading its driving character, or piling on excessive cost.
Just please don't call it a "hybrid."