First Drive: 2012 Mazda3 with Skyactiv Technology
by
KBB.com Editors
|
October 21, 2011 6:53 AM
They're not all-new, but the 2012 Mazda3 sedan and 5-door hatchback are important steps forward for Mazda's best-seller. Outside, the look is sleeker. Inside, you'll find new, more touch-friendly materials and a new instrument panel. But the aesthetic upgrades are footnotes when you consider the real news for 2012.
The big change for the 2012 Mazda3 is a new set of engine and transmission tech that Mazda likes to call "Skyactiv" -- which sounds like a suspension modification, but isn't.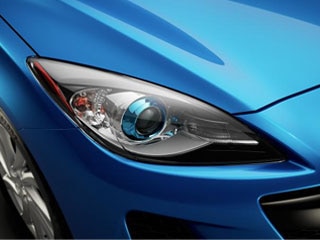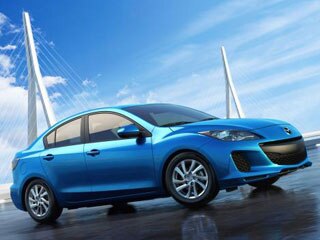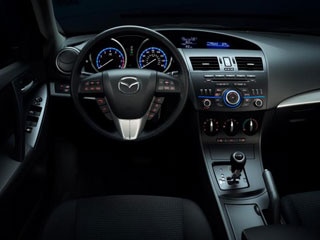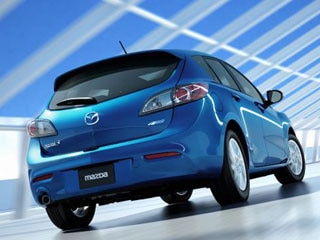 For a technical rundown of Skyactiv -- or a good night's sleep, depending on your penchant for "multi-orifice piezo injectors" and such -- check out our earlier deep dive into the science behind Skyactiv. For the ways in which Skyactiv will benefit you, however, read on because this really is kind of cool. Carmakers are coming up with all sorts of clever new ways to simultaneously get more horsepower and better fuel economy from their vehicles -- check out Ford's EcoBoost engines for one excellent example. Mazda is pulling off the same more power/more mpg trick with Skyactiv technology, which debuts any minute now (certainly before the end of the year), in the 2012 Mazda3 and will also be a highlight of the all-new Mazda CX-5, appearing in spring 2012. A diesel version of the technology -- Skyactiv-D -- is scheduled to appear sometime in 2013, according to Mazda.
The secret behind the Skyactiv 2.0-liter 4-cylinder engine, available in both the Mazda3 sedan and hatchback, is actually no secret at all, just a lot of hard work by Mazda engineers. In the end, hundreds of small details were addressed, all aimed at reducing the massive inefficiencies of the internal combustion engine. As a big bonus, the new Skyactiv engine works hand-in-hand with a pair of new-for-2012 6-speed transmissions that also got the engineers' critical, efficiency-obsessed eye.
A slight bump in horsepower, up five percent to the adequacy of 155 horsepower, is accompanied by a major boost in fuel economy. When optioned up with the 6-speed automatic, the 2012 Mazda3 sedan brings home 28 mpg in the city and 40, yes 40, mpg on the highway. The Mazda3 automatic hatchback rings in with 28/39 city/highway mpg. Impressive. The manual-transmission versions get 1 mpg less, city and highway. Not bad for a car that only asks for regular 87-octane gasoline. Those numbers are custom-built to keep the Hyundai Elantra, Honda Civic, Ford Focus and even the class-leading fuel-miser Chevy Cruz on competitive red alert.
Now friends, let's drive. With the Skyactiv engine and transmission setup, both the quiet and comfortable Skyactiv sedan and the roomy and comfortable Mazda3 5-door hatchback exhibit masterful front-wheel drive (FWD) drivability. A complete redesign of the manual transmission has paid off in a smooth-action, short-throw gearbox that offers a scent of the near-perfect Mazda MX-5 Miata shifter. The real enlightenment, however, comes with the 6-speed automatic. This new transmission delivers 100% efficiency and response at just five miles per hour, without any jerkiness or low-speed clumsiness. By design, kickdowns from higher to lower gears are quick and crisp, especially with the available steering-wheel paddle shifters.
Anyone who buys a 2012 Mazda3 Skyactiv model with the intent of winning autocrosses doesn't deserve to own one, even though the responsive steering in the models we drove was so good it deserved some kind of first-place medal. If you want to show off at a time trial, stick with the Mazdaspeed3.
For 2012, Madza3 prices start at $15,200 for a non-Skyactive 2.0-liter sedan. The least you can pay for a 2012 Mazda3 Skyactiv model is $18,450 for an i Touring model with the 6-speed manual transmission, $19,300 with the automatic. Those prices aren't quite a bullet in the heart of the Mazda3's competition, but the new Skyactiv sedan and 5-door hatchback are the best arguments we've driven for not heading straight to your Hyundai dealer to pick up an Elantra.