First Drive: 2011 Chevrolet Cruze
by
KBB.com Editors
|
August 16, 2010 7:29 AM
Every couple of years a car comes along that makes you wonder: Why didn't they do this sooner? That was our reaction when we had our first drive in the 2011 Chevrolet Cruze. The Cruze is considered a compact car, but forget what you think you know about that segment. The Cruze ups the ante and brings to the table high-quality fit and finish, with segment-leading fuel economy (Eco model) and an exterior that is anything but boring. Plus the Cruze's handling, turbocharged engine, and library-quiet interior put the once gold-standard Toyota Corolla to shame.
The Cruze takes on competitors and excels - turbo style
We drove both a Cruze LT and LTZ with a 138-horsepower turbocharged engine around the Virginia countryside. The beauty of this engine lies in its torque - 148 pound-feet at a low 1,850 rpm - which is right where you want and need your max torque to be. But most compacts don't get there until they get well past 4,000 rpm. Why does this matter? Well, while you're waiting for that Civic, Corolla or Focus to rev up in order to get to speed on the highway, the Cruze is already there and passing them by. Besides great torque, the engine doesn't struggle or buzz loudly like the Corolla's or Civic's and when combined with the new sound-dampening foam inside the Cruze's sheetmetal, you get a very quiet ride.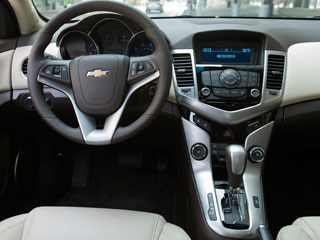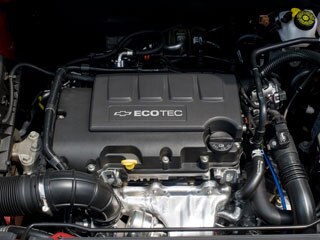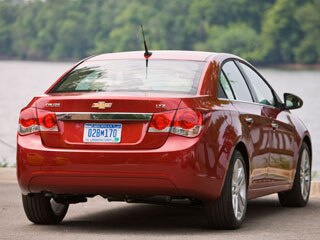 Automatic shifts make us want to switch our own gears
The hydra-matic six-speed automatic transmission we tested is decent, but we'd like to give the manual a try when it comes out on the base model later this year -- shifts weren't quite as fast as we'd have liked. We also wish there'd been an option to turn off the overdrive (like Kia has), but instead we were greeted by forced shifts on hilly roads, when we would rather have had a choice. Even with these small caveats, the Chevrolet Cruze was better on the road than either the Honda Civic or Honda Corolla we tested with it.
Suspension worthy of a Honda
When we think of the most dynamic ride in the compact segment, we typically think of the Honda Civic. But after driving the Civic back-to-back with the 2011 Chevy Cruze, we found the Cruze's ride dynamic, but soft enough that we weren't bouncing over broken pavement -- and we had a hard time deciding which was better. This says a lot about how far Chevy has come with their suspensions, which used to be far less compelling and soft, but now drivers who used to turn to the Civic will find the Cruze's ride also fits their requirements.
Compact interiors will never be the same
The 2011 Chevrolet Cruze also excels past competitors on the inside. Whether you choose to go with the LS or LT with the sporty contrasting mesh-like fabric inserts, or you opt for the 2LT or LTZ with leather, the Cruze offers a solidly built car with high-quality materials. The simplest test for us? When you close the door, the panel doesn't shake or seem hollow - the 2011 Chevy Cruze is that tight and well built. It's only a matter of time before competitors catch up to the Cruze, but for now its interior is definitely the leader of, and a game-changer for the compact segment.
Seats that you wish were in every compact
Compact cars kind of have a reputation for bad seats, since that is where manufacturers can save on weight and money. But the Cruze's seats were sturdy, comfortable, and firm enough that we could drive for hours without feeling stiff. The Corolla's seats felt spongy and unsupportive by comparison, while the Civis's offered less thigh support. If the Chevy Cruze were a bed in Goldilocks and the Three Bears, it would be "just right."
You almost forget it's a compact
To sum it up: If you are considering a Honda Civic or a Toyota Corolla, make sure you drive the Cruze before putting your money down. Another journalist who drove it said, "Wow, this could even be a sales car for a real estate agent or sales rep to take clients to lunch in. The quality is that good." The Chevrolet Cruze drives, sounds, and feels far better than its competitors and redefines our expectations for small sedans. Plus the Cruze delivers a refined, all-around package starting just under $17,000. Feel that uneasiness Toyota and Honda? That's the Chevy Cruze gaining on you, ready to take your top spots.