Ferrari Superamerica 45 - Factory-built, one-of-a-kind wonder
by
KBB.com Editors
|
May 24, 2011 10:37 AM
A major highlight of last weekend's Villa d'Este Concorso d'Eleganza in Como, Italy, the stunning Ferrari Superamerica 45 is a dream-car come true for New York Ferrari aficionado and collector Peter Kalikow. Kalikow commissioned the factory's Special Projects operation to create this vehicle to commemorate his 45 years of involvement as a Ferrari owner. Styled internally by Ferrari Design, the Superamerica 45 was engineered and built at the factory in Maranello, using a Ferrari 599 GTB Fiorano as a donor platform.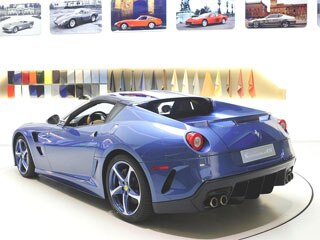 To properly celebrate its unique character, the Ferrari Superamerica 45 features distinctive bodywork that's rich in carbon fiber and crowned with a power retractable composite hardtop similar to the one used on the Ferrari 575 Superamerica production model. Up front, it features a bespoke chrome grille while angled double vents in the fenders are complemented by burnished aluminum A-pillars, mirrors and door handles. Out back, the Superamerica 45 sports all new rear quarters to allow proper storage of the top as well as to optimize its overall aero characteristics and add rear downforce.
Kalikow specified that his Superamerica 45 be finished in Blu Antile, the same color found on another of his 1961 Ferrari 400 Superamerica cabriolet. The alloy wheels on the car also are rendered in Blu Antile set off with contrasting diamond-finish spokes while all of the carbon fiber bits are done in a unique but darker shade of blue. The azure influence carries over to the interior of the Ferrari Superamerica 45 where rich Cuoio leather is set off by Blu Scuro carbon fiber trim bits and a state-of-the-art touch-screen infotainment system.