Exploring Key West in a 2014 Jeep Grand Cherokee
by
Micah Muzio
|
October 11, 2013 10:59 AM
Florida is exceptionally quiet from September to early October. The summer tourists are gone and the state isn't yet overrun with folks fleeing wintry northern climes. For anti-social types like me and my wife this brief tourism lull presented the perfect opportunity to explore America's leading producer of bizarre news stories.
For our three-day journey I commandeered a Jeep Grand Cherokee Limited 4x4. As it turns out 4-wheel drive is completely unnecessary when tootling down fully paved byways. Who knew?! Thankfully that's how most SUV drivers actually use their rigs, so our mini vacation doubled as a decent road test.
Starting from St. Pete
Having completed a weekend work obligation in St. Petersburg, Monday was vacation day 1. Why not drive 400 miles south to Key West? This death-march approach to vacationing is common in the Muzio family. My dad did it and, though I've tried to temper it in recent years, so do I. Still, having not visited Key West as an adult it seemed like a perfectly romantic destination to spend a few days with my wife. And so we drove southward.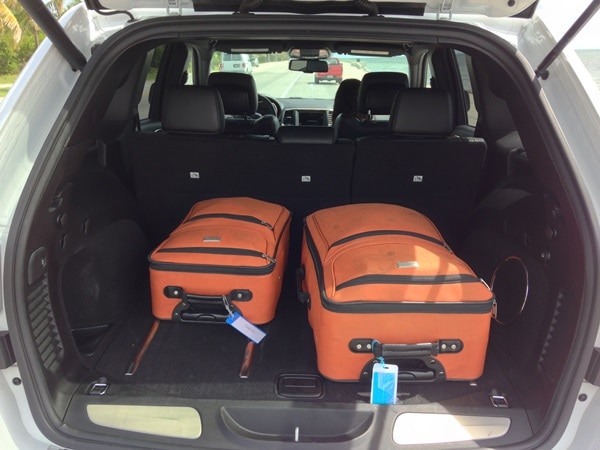 Handling, Steering, Sitting
Leaving southern St. Pete you cross the Sunshine Skyway Bridge, which divides Tampa Bay from the Gulf Coast. It's a stunning drive but in the process I noticed two things: 1) The windsurfers really liked the stout breeze coming from the East. 2) I did not. It turns out the Grand Cherokee requires forceful steering correction in a cross wind. It made me long for the newer electric power steering systems found in some vehicles that automatically account for cross winds.
Of course the Jeep's high profile has other implications. My 5-foot-3-inch wife had a little difficulty entering the vehicle in ladylike fashion while wearing a dress. On the other hand, the raised seating positions afforded us both excellent views of the scenery while allowing ample interior and luggage space. Physics being what it is, taller vehicles also tend to handle less ably than their lower-slung counterparts. Granted Florida's billiard-like topography meant few opportunities to test the Grand Cherokee's road holding, but there were on and off ramps and even at eager speeds we never spun off into a swamp, so count that as a win for the Jeep.
Long-haul Leisure
Carefully minding the speed limit through the straight, well-policed slab of I-75 known as Alligator Alley, I gained an appreciation for the Grand Jeep's long-distance abilities. Smooth ride? Check. Quiet interior? Yeah, quiet enough. Nice seats? Heck yes. I often suffer from lower back pain on longer drives but the Cherokee's front seats provided enough lower back support that I had no reason to whine.
Another thing worth considering during day-long drives is the in-car entertainment system. Our 2014 Grand Cherokee Limited trim sported Chrysler's Uconnect infotainment system with an 8.4-inch screen and 9-speaker audio system including a subwoofer. Uconnect is smartly designed with big, easy-to-read icons and a simple, quick interface for wirelessly connecting a smartphone via Bluetooth. All of which made it easy to pull up appropriately tropical music selections. One thought for Jeep's product planners: Why not connect the infotainment system to the front passenger seat sensor? I understand the inclination to minimize driver distraction by locking out certain functions when the vehicle is in motion but why not let a front passenger handle destination inputs?
Passing Time
At the southern tip of Florida proper the Overseas Highway begins, connecting a long string of islands called the Florida Keys. No matter how much relaxing ukulele music you ingest, at some point along the highway's 127.5-mile path you'll grow weary of lackadaisical drivers casually limping along in their Camaro convertibles. Our test car's 3.6-liter, 290-horsepower V6 did a decent job hustling around these slow-rolling road blocks. With eight ratios at its disposal, the automatic transmission did an excellent job exploiting the engine's output while also aiding fuel efficiency during more sedate cruising. The on-board computer indicated roughly 22 mpg in mixed driving, a pretty good number that falls between our Grand Cherokee's EPA-estimated 17 city and 24 highway fuel economy figures.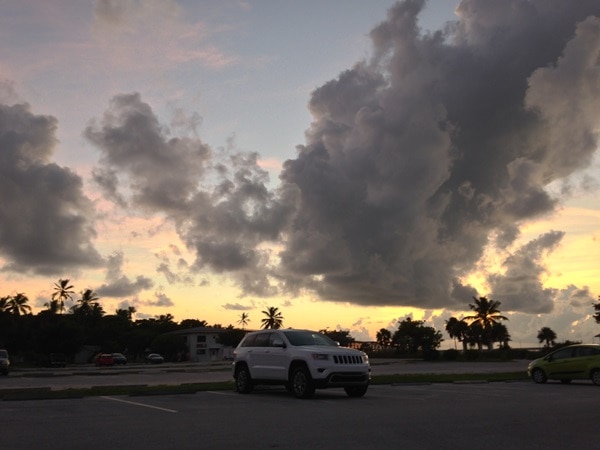 One more note on the transmission. It features a modern joystick-like gear selector that you push forward or back to select drive, reverse and park. I'm all for progress but after several days' worth of driving I never quite mastered the gear selector. In fact I regularly put the car in park when attempting to select reverse, a dicey proposition when making U-turns on congested island streets.
Beach Shuttle
On day two we ate conch fritters and walked to Ernest Hemingway's old house. It's a stuffy, hot home filled with tourists and six-toed cats. No, seriously.
But you know what removes the smell of conch, cat and tragic insanity? The beach! So we hopped aboard the Grand Cherokee and headed to Fort Zachary Taylor State Park. The beach there lacks what I consider a basic for beaches...sand. But once past the rock-strewn shore the water felt lovely. Afterward we subjected our Jeep's leather-trimmed seats to the indignity of wet clothes and sunscreen-swathed skin. It took the abuse just fine. One minor complaint: For roughly $41,000 it might've been nice to have ventilated front seats. I mean, the Jeep Grand Cherokee underwent a refresh for 2014 resulting in an even classier looking SUV. It's awfully hard to match the Jeep's classy example with a sweat-soaked back.
Overlooked luxuries aside, the interior is well-crafted with some very thoughtful touches. One highlight was an extra pair of USB outlets on back of the center console. They kept my phone charged, letting me post fancy tropical drink pictures to Facebook with clever captions like "another day at the office." Ha, I kill me. The interior also boasts nice arm rests, plenty of beverage storage spots and silver-brushed dark wood trim that looks decently convincing provided you don't touch it or get too close; kind of like the girls dancing at Bourbon Bar's 11 pm show on Key West's famed Duval Street.
(Really) Off Road
The third day of our Florida adventure started behind the wheel of a jet boat. Neat, huh? It turns out, though, that dead floating plant life, a high-suction water intake and an unshakable phobia of deep water are not a great combination. Did you know that if left unchecked a clogged jetboat water intake can lead to irreparable engine damage? It's true. During our hours on the ocean that damn intake clogged twice, leaving me little choice but to don a mask, dive into unfamiliar waters and submerge myself underneath the boat like the world's most adventurous janitor. All told jetboating was a fine experience, especially when I was actually in the boat, but it did reiterate my natural affinity for wheeled transportation.
The Dusty Trail Home
Riding a wave of appreciation for land-based travel, we showered, packed up and headed north to catch a 6 p.m. flight home from Miami. Unsurprisingly, the Jeep's optional $1,795 Off-Road Adventure II package did absolutely nothing to aid our progress. The unpaved parking lot at Baby's Coffee was literally the pinnacle of ruggedness on the trip; sadly the 4-wheel drive mode selector didn't have a "dirt lot" setting for the occasion.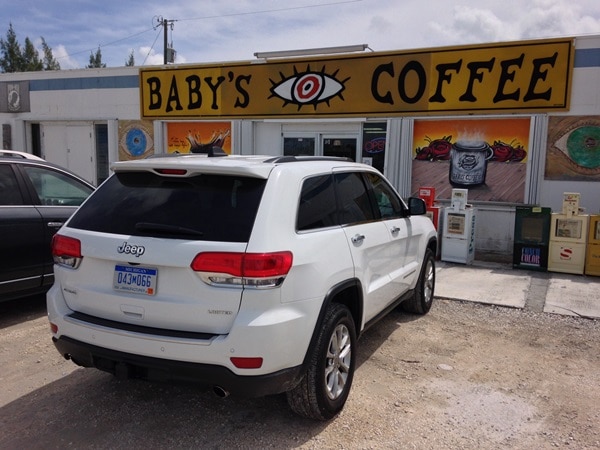 Loaded up on caffeine and still reeling from our near constant consumption of key lime pie, we soldiered onward to the mainland, past quiet islands, luxurious villas, dilapidated shacks and endless ocean. There was a moment looking out past the Grand Cherokee's hood where the water looked so gloriously deep blue that the only word floating in my mind was "azure". After consulting Wikipedia the water was technically more of a sapphire blue but azure sure has a ring to it, doesn't it?
Key West has a nice ring to it, too. It's a place that fills the mind with romantic notions of gentle breezes, sunsets accompanied by applause and long-overdue indulgence. The reality of Key West didn't quite align with that notion but it was still wonderful. In similar fashion the Jeep Grand Cherokee inspires dreams of fording rivers, scaling mountains and escaping into the wild beauty of nature, while the reality of SUV ownership mostly consists of daily commutes, trips to Costco, and weekend family outings. I guess that's the magic of the Jeep Grand Cherokee. It's an SUV that enhances reality while leaving open the possibility that your off-roading dreams are just one spontaneous turn away from reality.
Where to Next?
Track the changes in the updated 2014 Jeep Grand Cherokee
Check out the 2014 Jeep Grand Cherokee SRT
Consider the more affordable Jeep Cherokee or Dodge Durango
Build and price a 2014 Jeep Grand Cherokee
Popular at KBB.com