Exploring Austin in the 2013 Honda Accord Coupe
by
Micah Muzio
|
August 26, 2013 6:34 AM
Austin is a hip town. Bisected by a river dotted with stand-up paddleboarders, Austin is practically overflowing with inventive restaurants and food trailers, music venues and art - both legal and otherwise. Yet, as much as its pleasant and progressively minded inhabitants might object, Austin is still very much a Texas community. During a recent trip to Austin my wife and I were greeted by oppressive heat and humidity, comically huge pickup trucks and a distinct propensity for taxidermy.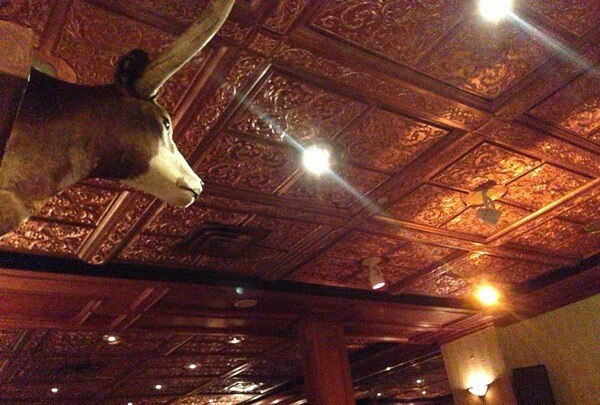 It's not unlike the relationship between the Honda Accord, with its Texas-sized annual sales volume, and the niche-ier Accord Coupe. With fewer doors and more expressive styling, the Coupe has a zestier, quasi-Austin vibe of liberation. And yet just like its kindred city the Accord Coupe can't escape certain traits shared with the host from which it spawned. After spending several days driving a 2013 Honda Accord Coupe in and around the Lone Star State's capital of hip, here are some observations.
Arrival
Act with authority and you can do almost anything. Such was the case when picking up our 2013 Honda Accord Coupe EX-L V6 at its designated airport parking lot. Having identified it from the shuttle we assertively loaded our luggage, climbed aboard and started the engine while the attendant was still struggling to figure out which car was ours. Not only did we speed our departure but it felt like a proper bull-by-the-horns intro to a state that appreciates that sort of thing.
Read the manual
As a fan of manual transmissions - sadly one of the last - I was pleasantly surprised to find our coupe equipped with a 6-speed manual gear box. Right away inconsistent, springy pressure from the leftmost pedal made it tricky to smoothly engage the clutch. Some practice smoothed engagement but it's always embarrassing pulling away with a jerk and a squeal. Of course the problem might have been the result of jet lag or some such thing because our valet at Austin's historic Driskill Hotel went out of his way to praise the Accord's transmission as "the smoothest he's ever driven" with no mention of clutch issues. The dude was absolutely right about the shifter. Light efforts and unambiguous engagement made the Coupe's transmission a pleasure to operate.
Six flags, six cylinders
The 185 horsepower four-cylinder that powers most Accord Coupes does a fine job, but man, from a pure pleasure standpoint the V6 is the way to go. With 278 horsepower and 252 lb-ft of torque the V6 pulls solidly even at lower engine revs. In fact the limiting factor when accelerating is front traction. Floor it from a stop and you'll experience the vibrant back-and-forth banter of tire slip and traction control intervention.
Control issues
Journeys through Texas' vast open spaces are greatly livened up with the help of good music. Control of the entertainment system in our EX-L V6 was handled via a standard high-mounted 8-inch screen and a secondary touchscreen (included on all but the base LX-S trim) placed where radios typically reside. To be honest, dividing my attention between two screens while navigating unfamiliar roads was a challenge. The packaging advantages of a touchscreen, with its ability to change functionality on the fly, makes plenty of sense. After all, we've decried button-cluttered dashes in the past. But we would definitely need more than a few days to feel confident using this setup.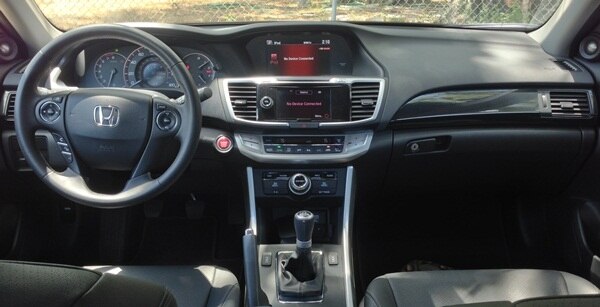 The style divide
The trim surrounding that lower touchscreen is glossy black covered in a thin layer of sparkly silt. At least it appeared to be. A closer look reveals that the reflective bits are actually embedded in the trim. This little bit of flare is accompanied by interior trim pieces featuring tiny polka dots. From a distance the trim looks perfectly innocuous but up close the tiny dots seem like something you'd find on a cute dress at one of Austin's many vintage shops. My wife loved it. Me? Less so.
Drive Friendly - The Texas Way
Despite the promise of sporty good times the Accord Coupe isn't really built for radical handling, with steering that's "light and easy" versus "firm and communicative" as typically associated with more focused driver's cars. Consequently, when driving briskly along some winding Texas river road, I found the traction limit of the front tires was easier to sense with my ears than from any information transmitted through the wheel. That might sound like criticism but it really isn't; just clarification. Accord buyers want a car that's a pleasure to drive, even if it only has two doors. While cruising from Austin to the charming German-infused hamlet of New Braunfels our Accord Coupe proved supremely comfortable with appropriate praise directed to the supple suspension and lovely front seats that offer welcome lower back support.
Everything's bigger...
The front seats are the most prized in any coupe but the Honda Accord Coupe's rear seats are better than you might expect. Actually, the tight middle rear position is only useful in a pinch but the outboard seats are fully adult worthy offering plenty of hip and head room, and decent leg room. And despite its limited-use middle seat, the ability to carry five Texans (or lesser citizens) sets the Accord Coupe apart from many dedicated four-seat coupe competitors.
A smart solution to a non-issue
Craning my neck to spot Austin's beloved Gourdough's Donuts it occurred to me that outward visibility is a non-issue even with the Coupe's racier roofline. With solid sightlines in all directions our car's Lane Watch feature seemed unnecessary. Unnecessary or not, Lane Watch is a really cool feature that uses a camera mounted on the passenger-side window to display whatever is hiding in your blind spot right on the nav screen, thereby enhancing lane-changing safety. Hmm. On second thought, with so many helmet-less motorcyclists haunting Texas freeways, some extra over-the-shoulder visibility might not be such a bad idea.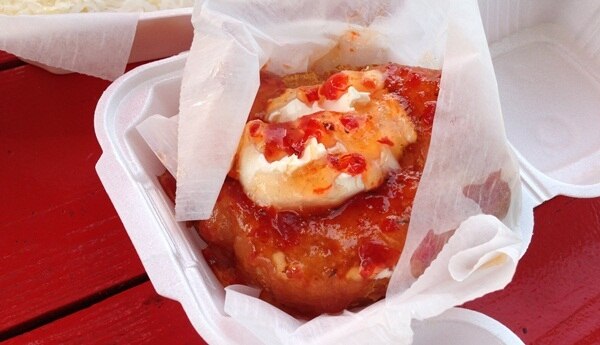 Lessons from summer vacation
The Accord Coupe may have a more liberated spirit than its sedan counterpart but at its heart it's still the Accord we know and love. Trimming two doors and tweaking the styling doesn't negate its Accord essence; no more than hipster facial hair and a thriving bike culture would negate the quaint drawls and stellar BBQ that thoroughly charm us non-Texans. The Honda Accord Coupe exists for those who appreciate something a little different. How nice it is that in this big world there's a town and a car for nearly every taste.