Exagon Furtive-eGT takes electricity to a new level
by
KBB.com Editors
|
September 30, 2010 7:24 AM
One interesting and unexpected aspect of the new interest in electric cars is the burgeoning number of electric sports cars. The Tesla Roadster led the way, daring to position itself at the diametric opposite pole of the golf-cart-with-doors image that electrics had assumed. Now a French company called Exagon Motors is trying to mine the same vein with a vehicle called the Furtive-eGT. For those without ready reference to dictionary.com, "furtive" means secretive and stealthy, and we assume that is a reference to the fact that this electric car is nearly silent in operation. It certainly doesn't refer to its looks, which are worthy of attention.
Exagon Motors earned its spurs competing in the AndrosElectric Trophy series, and based on that experience it has parlayed Siemens electric motors and Saft batteries into a very interesting sports car confection. The most intriguing aspect of the Furtive-eGT is its promise of steady and plentiful torque. Exagon Motors says the car's two Siemens-built, liquid-cooled electric motors offer 354 pound-feet of torque from zero rpm all the way to 5,000 rpm. The two motors offer a total power equivalent of 380 horsepower. The sprint from zero to 62 miles per hour (0-100 km) is said to take just 3.6 seconds, making the Furtive-eGT very fast indeed.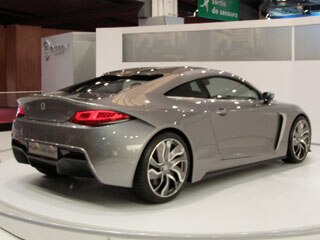 Taking a dig at Tesla, whose Roadster is based on a gasoline-car chassis, Exagon notes that its car was designed from the ground up as an electric. One of the key benefits of this approach is that weight distribution takes into account the batteries that power the electric motors. The lithium-ion batteries manufactured by Saft are built into the car's floor, which has the twin benefits of keeping weight low and insulating against sound intrusion. Exagon claims the batteries have a useful life of 10 years and that they can undergo 3,000 charging cycles. The claimed range is between 122 and 251 miles, and Exagon says a "range extender" - a small internal combustion engine to generate electricity when needed -- can double the top figure. No price was announced, but the Furtive-eGT is expected to come to the European market in late 2012.