Eterniti Hemera Prototype - Frankfurt Auto Show
by
KBB.com Editors
|
September 19, 2011 10:53 AM
Aiming to establish itself as a boutique builder of premium vehicles of all types, a new London-based boutique operation brought its first effort to Frankfurt: the Eterniti Hemera. This prototype of what it claims will be the world's first "Super-SUV" is based on a Porsche Cayenne/VW Touareg platform, and company reps say it closely resembles what will start rolling out of a bespoke production facility beginning next early year.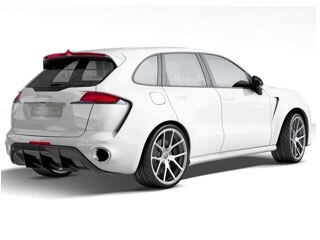 What will make the Hemera a must-have for the ultra-wealthy? A full chassis-up revamp for openers, starting with a carbon-fiber body and output of its 4.8-liter twin-turbocharged V8 being raised to over 620 horsepower, sufficient to give it a top speed on the far side of 180 mph. While corollary suspension tweaks will ensure it remains an enthusiast-grade sport ute, Eterniti execs plan to leverage its appeal to Asian markets by also providing limousine-like rear cabin amenities, including the fully climate-controlled twin electrically-reclining rear seats, dual tiPads with wireless keyboards and drink chiller found on this one-off show vehicle.
While it might be easy to dismiss the Eterniti effort, particularly in these challenging economic times, the firm's in-house engineering team is led by Alastair MacQueen, the same man who designed the Jaguar XJ220 supercar and has no less than three Le Mans wins to his credit with Jag and Bentley. The operation also has a number of top execs with major retailing experience in the luxury automotive field. It could be interesting to see just what does - or doesn't -- turn up on the Eterniti stand at the next Frankfurt gathering in 2013.