Doking XD - 2011 LA Auto Show
by
KBB.com Editors
|
November 18, 2011 1:12 PM
About as far from the conventional electric urban commuter as one can imagine, the Doking XD hopes to give the world a new way to think about the performance potential of a compact EV. Presented in prototype form at the Los Angeles show, its manufacturer - best known for being an international market leader in the world of high-tech remotely controlled industrial machines - want to assess the potential interest U.S. buyers might have in a uniquely styled and appointed three-passenger gullwing coupe that in its most potent form, can run from 0-60 mph in about 4.1 seconds and top out at 87 mph.
>See more new cars unveiled at the 2011 Los Angeles Auto Show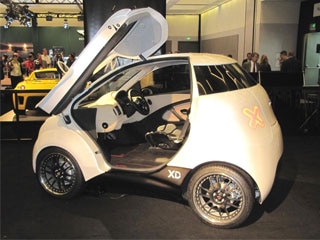 Vital stats on the Doking XD include a lightweight carbon/Kevlar-reinforced plastic body over a custom aluminum spaceframe, Doking-designed advanced 33kWh lithium-iron-phosphate battery pack mounted below the floor and the choice of having a pair of 45kw/60-hp electric motors powering either both front or both rear wheels as well as offering an all-wheel-drive option, the latter doubles torque output from 266 to a heady 532 lb-ft. Other cool touches include a fully reconfigurable digital instrument cluster and a centrally-mounted driver's seat that rotates 90 degrees and swings out toward the door opening to pick up its pilot then automatically returns to the action position.
The Doking XD has been preliminarily priced at €50,000 ($67,300) in Europe. Whether it ever makes it to the U.S. and what it will cost here remains to be seen.