Citroen Tubik Concept - Frankfurt Auto Show
by
KBB.com Editors
|
September 6, 2011 12:51 PM

While it may appear to be the seminal prototype for an ultimate party van, the Citroen Tubik Concept reportedly was envisioned as "a high-tech executive shuttle based on one key idea: travel should be fun." Drawing inspiration from a cab-forward utility vehicle called the TUB that Citroen introduced in the late '30s, this modern-day recasting takes the automaker's "Créative Technologie" to a new level of decidedly gentrified green, matching upscale cabin appointments with sophisticated hybrid power.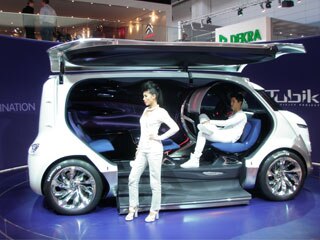 Beneath its aerodynamically-optimized exterior, the Citroen Tubik Concept offers three rows of extremely reconfigurable seating that provide space for nine in a lounge-like configuration. The driver enters through a swan-wing single door while passenger access is via a double-wide gullwing portal that eliminates the conventional B-pillar. Once inside, guests can settle back and relax while viewing a large, semi-circular TV screen or listening to music on a primo surround-sound audio system.
After passing muster with the Tubik's fingerprint-recognition security system, the driver slips into what Citroen is calling a "cyclotron" cockpit environment. This stylishly-unified operating arena teams all functional elements -- including the seat, pedal set, multifunction steering wheel and heads-up display -- into a circular configuration that optimizes ergonomics.
Power for the all-wheel-drive Citroen Tubik Concept comes from a variation on the Peugeot-Citroen Hybrid4 technology system, and matches a four-cylinder turbodiesel engine up front with an electric motor driven by a lithium-ion battery pack at the rear. To smooth the ride and sleeken its dynamic profile, the Tubik Concept features a variable-damping system based on Citroen's Hydractive suspension package that can automatically lower the ride height as speeds increase. Also in the Tubik's mileage-maxing mix are unique low-rolling-resistance tires fitted to 22-inch alloy wheels.