Citroen Lacoste Concept -- Paris Auto Show
by
KBB.com Editors
|
September 22, 2010 1:32 PM
Created to celebrate what its key collaborators refer to as their "shared vision of boldness, creativity and optimism," the Citroen Lacoste Concept embodies a decidedly high-profile take on open-air motoring that brings together the thinking of a traditionally avant-garde automaker and one of the world's best-known creators of athletic wear. To that end, this Paris-bound style setter melds innovative minimalist design with interesting tech touches to provide a one-off taste of what may someday lie ahead in the way of affordable and eco-friendly personal transportation.
Anchoring the Citroen Lacoste Concept's visual less-is-more motif is lightweight bodywork that does away with conventional doors, roof and side windows. Even the windshield can be slid away if desired. Finished in pearlescent white and dark blue with yellow accents, the Citroen Lacoste Concept relies on its T-shaped raised backbone to add a measure of structural rigidity and house an inflatable yellow soft top that auto deploys when it senses rain or can be manually opened as a sunshade. The compact runabout also features unique hidden front/rear lighting elements and custom tennis-net-inspired wheels that reinforce its sporty character. And if you squint properly, the design team claims the outline of the fairing that rises up from the underbody resembles a tennis shoe print on a clay court.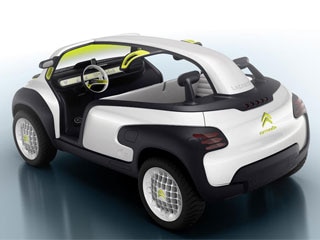 Inside, the Citroen Lacoste Concept shows a similar fun-loving flair, teaming a simple two-spoke swing-away sport steering wheel with full-width fascia display that uses a supersize pixel matrix to provide the driver with all critical functional information as well as unique icons to deliver other messages in a manner that recalls the look of the original eight-bit video games. The twin bench seats in the Citroen Lacoste Concept's easy-access cabin are covered in cotton cloth with a weave that mimics the look of Lacoste's own alligator-logoed polo shirts. If the generous allotment of open and covered stow bins can't accommodate all of your gear, the rear bench slides back to open up a single large area -- the better to hold a selection of dedicated sports equipment, from tennis racquets and golf clubs to skis, a surfboard or a bike.
Sole powertrain detail for the Citroen Lacoste Concept is that motivation comes from a three-cylinder gasoline engine that is geared more towards economical and ecological operation than pure speed. Given that description, it seems likely the same 1.0-liter/67-horse unit from Citroen's own C1 minicar was also drafted for this duty.