Chevrolet to launch new IndyCar engine and revive Detroit Grand Prix
by
KBB.com Editors
|
December 1, 2011 8:34 AM
Chevrolet will rejoin IZOD IndyCar open-wheel racing as both engine supplier and event sponsor in 2012. The new twin-turbocharged, direct-injected, all-aluminum 2.4-liter, E85 ethanol-powered Chevy IndyCar V-6 engine will be developed jointly by General Motors and Ilmor Engineering, which was jointly founded and is partly owned by Roger Penske.
Team Penske, the first IndyCar team to commit to Chevrolet power in 2012, will be joined for 2012 by Andretti Autosport and Panther Racing, and the engine will be available to any other entrants who want it in accordance with series regulations.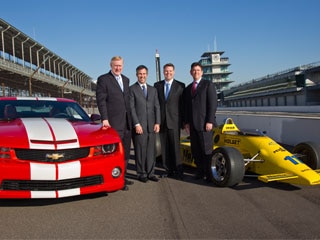 "Indianapolis Motor Speedway has been a proving ground for manufacturers since Louis Chevrolet, our co-founder, first raced here in 1909," says Chevrolet Marketing vice president Chris Perry. "Our return to IndyCar as Chevrolet enters its centennial year is natural." Chevrolet competed in Indy-car competition as an engine manufacturer with V-8 engines in 1986-93 and 2002-05, winning 104 races, including seven Indianapolis 500s, and six driver championships. Team Penske tallied 31 of those Chevy engine wins, and four of its Indy 500s.
"Our vision is to design, build and sell the world's best vehicles - and racing is one of the best ways to showcase what we can do," says GM Vice Chairman Global Product Operations Tom Stephens. "Re-entering IndyCar racing will help us take our advanced engine technology to the upper bounds of what's possible [and will] provide a dynamic training ground for engineers, who'll transfer the technologies we develop for racing to the products we sell to our customers.... We'll work to further increase performance while using the least amount of fuel - and we'll also learn how to get the most out of E85 ethanol."
Chevy announced that it will also team with Penske to bring open-wheel IndyCar racing, and three supporting racing series, back to Detroit's Belle Isle beginning on June 1-2, 2012, the weekend after next year's Indianapolis 500. "This partnership is something special," said the Penske Corp. founder and Chairman. "I can't thank Chevy and GM enough for their commitment to IndyCar and the Motor City. The city and the region are on their way back."
Given Chevrolet's 35 NASCAR top stock-car series manufacturer's championships, seven class wins with Corvettes at the 24 Hours of Le Mans, 2010 and 2011 World Touring Car Championships with Cruzes, all those IndyCar wins and countless others in other forms of the sport, the brand's ramped-up involvement in motor sports makes excellent sense now that parent GM is past its 2009 bankruptcy and profitable with many successful new products.
IndyCar fans can look forward to much-improved competition with all-new cars and engine manufacturers in 2012 and to that renewed Detroit Grand Prix the weekend after the Indy 500.