Chevrolet Mi-ray Concept -- Hybrid dream machine debuts in Seoul
by
KBB.com Editors
|
March 31, 2011 9:05 AM
Intent on raising its coolness profile as it prepares to launch the Chevrolet brand in Korea, the BowTie Brigade unveiled its stunning Chevrolet Mi-ray Concept at the Seoul Motor Show. Penned at the GM Advanced Design Studio there "to celebrate Chevrolet's 100-year heritage of designing expressive vehicles," this avant-garde two-seat roadster -- whose name literally means "future" in Korean, explores a number of new possibilities that may lie ahead for the brand. According to GM Korea President and CEO Mike Arcamone, the Mi-ray Concept "strengthens the bond between car and driver, creating a fresh look at what sports cars of the future might be."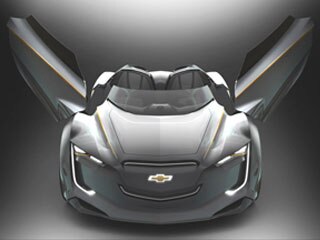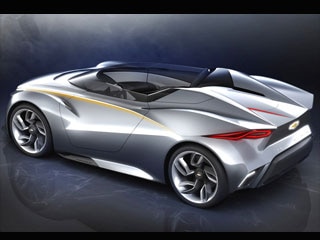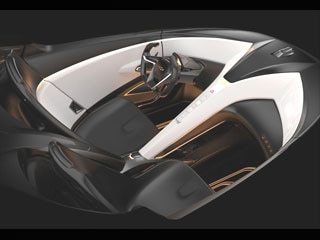 Paying conceptual tribute to the iconic 1962 Corvair Super Spyder and 1963 Monza SS show cars, the Chevrolet Mi-ray Concept is constructed largely of carbon-fiber and carbon-fiber reinforced plastic materials. The Mi-ray's dramatically creased and aerodynamically contoured bodywork that recalls a jet fighter fuselage is set off by equally compelling fascia and lighting treatments and scissor-style doors that swing up and away to permit easy access to its dual-cockpit cabin. As a final mass-reducing flourish, the Mi-ray's 20-inch front/21-inch rear wheels are made from featherweight aluminum-carbon fiber composite.
The Mi-ray's cockpit further celebrates the aircraft-meets-performance themes that help define its exterior. Rendered in carbon fiber, natural leather, brushed aluminum, and liquid metal surfaces, it features a highly stylized steering wheel and a pair of asymmetric shell-style seats separated by a full-length console element. To keep its driver fully updated when piloting this road rocket, the Mi-ray boasts a trick rear-projection system that's split into three zones, the center performance readout being flanked by range info on the left and navigation/mileage stats on the right.
Other bits of trick tech on the Mi-ray's menu include a centrally located "start" button that when pressed, causes the retractable central instrument cluster mounted on the steering column to rise up like a jet canopy prior into its action position as well as retractable rearview cameras that are used in place of traditional rearview mirrors. In town, they also serve a supplemental function. Their forward-facing cameras are integrated with the Mi-ray's on-board GPS system and overlay pertinent navigation info on a real-time video display.
Effectively complementing its striking appearance, the Mi-ray Concept is fitted with a unique "mid-electric" propulsion system that GM says maximizes both performance and fuel efficiency. It matches a 1.5-liter turbocharged gasoline engine located behind the passenger cabin that drives the rear wheel via a dual-clutch automatic transmission with a pair of 20-horsepower (15kW) electric motors -- one on each front wheel. Intended for use primarily when the car is operating in zero-emission urban areas, the motors are energized by a compact 1.6kWh lithium-ion battery pack that can be charged on the fly using regenerative braking or via a conventional plug-in port and wall outlet. Fully integrated with the electric side of the equation, the Mi-ray's gas engine is intended for more spirited running. The driver can toggle between the two systems -- and they can be combined to provide a max-muscle all-wheel drive setup that also provides front torque-vectoring capabilities to enhance its cornering prowess.
"The propulsion concept fits perfectly with the rest of the vehicle, delivering big performance in a small footprint, on the road and in the environment," said Arcamone. "By combining GM propulsion technology and visionary design, the Mi-ray points to the future of Chevrolets around the globe -- expressive, youthful and entertaining." His sentiments were echoed in a most promising manner by Uwe Grebe, executive director for GM Powertrain Advanced Engineering, who noted that: "Many of the components in the Mi-ray's propulsion system are a logical extension of GM's current technology portfolio. The Mi-ray Concept shows the potential for reconfiguring, rescaling and extending today's propulsion technologies." We say that it's time to make this dream come true.