Cadillac 'Super Cruise' Technology to start real-world testing
by
Bob Nagy
|
May 2, 2013 7:41 AM
A new semi-autonomous driving system being developed by Cadillac under the "Super Cruise" name is commencing a new level of evaluation that will extend well beyond the simulation, closed-course and limited on-road work done to date. The upcoming trials for Super Cruise are set to take place on various public highways and subject the system to a far more challenging regimen aimed at establishing the true limits of its operational potential.
Also: Your 12 midsize sedan choices for 2013
Super Cruise, which Cadillac believes could see production application by the end of the decade, integrates radar, ultrasonic sensors, video cameras and GPS map data to help trim the driver's workload under a variety of conditions. Many of those elements are already part of the Driver Assist Package currently offered on the 2013 Cadillac ATS and XTS models. While Super Cruise will be capable of overseeing a host of semi-automated vehicle operations -- including hands-free lane centering/following, braking and speed control under certain situations -- Cadillac also stresses that it will not eliminate the need for a driver to remain attentive when behind the wheel. If at any time things like inclement weather or poorly marked roads should prevent the system from remaining fully functional, it will immediately prompt the driver to resume active steering.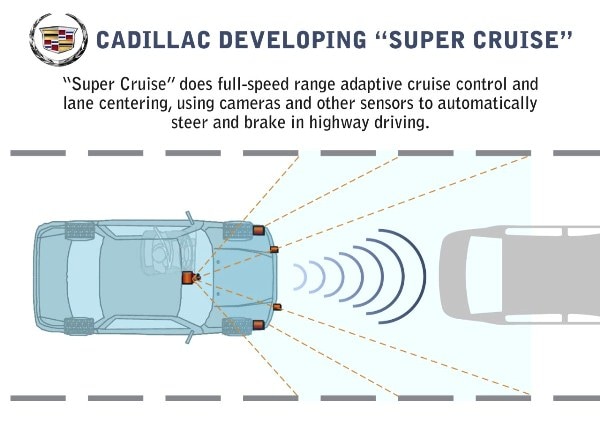 BMW's new 2014 BMW 3 Series Gran Turismo arrives this summer
The 2014 Cadillac CTS takes Art and Science design to a new level
The hot 2014 Mercedes-Benz CLA45 AMG will be here for Christmas