Cadillac CTS-V Coupe World Challenge Racer - 2011 Detroit Auto Show
by
KBB.com Editors
|
January 11, 2011 12:52 PM
Last month, Cadillac announced that it would be returning to the world of the Sports Car Club of America's (SCCA) World Challenge GT racing ranks. In Detroit, GM's luxury division unveiled the car it plans to campaign in the 12-event series that kicks off at the end of March on the streets of in St. Petersburg, Florida, in conjunction with the IZOD Indycar weekend.
>See more new cars unveiled at the 2011 Detroit Auto Show
"The SCCA World Challenge lends itself well to a natural transfer of knowledge," said Jim Campbell, GM vice president for Performance Vehicles and Motorsports. "The series will become a key test-bed for Cadillac. We anticipate using what we learn on the racetrack to ensure the V-Series stays on the cutting-edge of performance."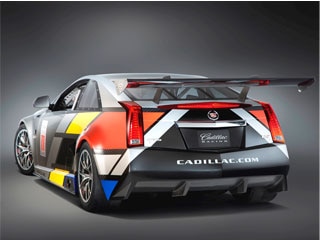 Looking suitably speedier and even more sinister than its already-potent street counterpart, the Cadillac CTS-V Coupe Racer also will be powered by a 6.2-liter supercharged V8 tuned to make 556 horses. Cadillac plans to field a pair of cars in the sprint-race series it last contested from 2004-2007. While largely production-based, the CTS-V Coupe race entries are being developed by the veteran motorsport engineering firm of Pratt & Miller.
Driving these new comp-spec CTS-V Coupes in the opening round of World Challenge action will be two equally experienced wheelmen. Former Chevy house driver, Johnny O'Connell, who previously piloted various race-spec Corvettes to a trio of GT1 titles in the ALMS series -- and four GT1 victories in the 24 Hours of Le Mans -- will be joined by Andy Pilgrim, whose career achievements include taking a previous-generation Cadillac CTS-V Sport Sedan to the SCCA World Challenge GT title in 2005.
>All Auto Shows , >Past Detroit Auto Shows , >Detroit Auto Show 2011