Cadillac Aera and smart 454 WWT win Design Challenge Los Angeles
by
KBB.com Editors
|
November 24, 2010 11:33 AM
With this year's creative brief for Design Challenge Los Angeles mandating the automakers to "think light," studio teams representing nine different automaker's in Southern California and Europe presented their vision of a more efficient take on personal transportation. In the end, two entries, the Cadillac Aera and the smart 454 WWT, emerged as co-victors in the seventh annual competition that's held each year in conjunction with the LA Auto Show. This time around, the Design Challenge objective was to devise an efficient package that would carry four in comfort and safety while delivering satisfactory driving performance and desirable styling but still remain under 1000 pounds.
>See more new cars unveiled at the 2010 Los Angeles Auto Show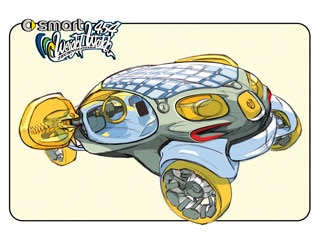 In the case of the Cadillac Aera, that mandate took the division's Art-and-Science sensibilities into the realm of a 2+2 touring coupe that wraps its 3D lattice mono-form frame in flexible bodywork made from pressurized polymer panels that are similar to the airbags found on the NASA Mars Rover. All of the body bits, including the Aera's interior, would be "grown" from a single lattice structure and fully recyclable, while power woiuld be supplied by a Pneumatic Drive System that includes a 10,000-psi composite air storage tank with capacity for a 1,000-mile range. The Aera also would employ an all-in-one wheel system that combines its rotary actuator propulsion with the steering and suspension functions.
Product of the Mercedes-Benz Advanced Design Studio in Sindelfingen, Germany, the smart 454 WWT took an equally innovative route to tomorrow. Its name comes from the kilogram equivalent of 1000 pounds created by using "weight watch technologies." Mercedes says the vehicle would be produced by "Smart Granny Robots" (SGR). Equipped with huge knitting needles they would literally knit the smart's tridion cell from carbon fibers in a process that would yield complex shapes and structures capable of optimizing weight and strength. The windows, fenders and bumpers of the smart 454 WWT are recyclable colored plastic while the roof is made from a thin but durable recycled textile fabric. It rides on carbon fiber tires with an integrated suspension and is propelled by a pair of 15kW electric motors located between the rear wheels and powered by a replaceable lithium-ion battery. All operational functions would be managed and controlled via an iPod app and like the current smart fortwo, the 454 WWT would offer interchangeable body panels for easy customization.