Bugatti Veyron Grand Sport L'Or Blanc - Porcelain to the max
by
KBB.com Editors
|
July 1, 2011 11:22 AM
With over 1,000 horsepower and a stratospheric price tag, the Bugatti Veyron in any guise has never been a low-profile player among the world of supercars. But this striking one-off example, the Bugatti Veyron Grand Sport L'Or Blanc, raises the look-at-me stakes to an entirely new level. A collaborative effort between the boutique automaker and German-based Königliche Porzellan-Manufatur Berlin (KPM), it's the world's first car to feature a porcelain finish on both its exterior and interior body panels.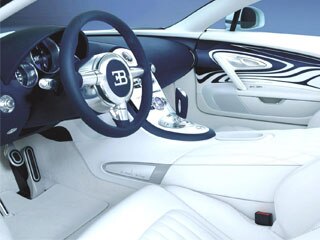 Dr. Stefan Brungs, director of Sales and Marketing at Bugatti Automobiles, admits that "At first, it seems to be an unusual idea to use porcelain in a car, especially in the world's fastest convertible." But he goes on to note "This is what Bugatti stands for: The realization of exceptional ideas while striving for the utmost in quality and aesthetics. This allows us to continue Ettore Bugatti's heritage, who himself loved to experiment with new materials."
Jörg Woltmann, owner of the Königliche Porzellan-Manufaktur Berlin (KPM) and car aficionado notes. "At the beginning, we wanted to integrate the sculpture in our product range, then we thought about the potential for a comprehensive service and finally the synthesis of ideas led us to this outstanding Grand Sport. A number of superlatives are associated with porcelain from the Königliche Porzellan-Manufaktur Berlin: one says it has the most beautiful shapes and decors, it has the hardest weight and the whitest tone. Now, it is also the fastest porcelain."
Should its aesthetics be in tune with your personal need for speed, be prepared to shell out €1.65 million ($2.39 million) for the right to park the Bugatti Veyron Grand Sport L'Or Blanc in your garage.