BMW Vision EfficientDynamics supercar gets production approval
by
KBB.com Editors
|
November 5, 2010 12:46 PM
First seen at the 2009 Frankfurt Auto Show, the radically styled BMW Vision EfficientDynamics Concept plug-in hybrid electric vehicle has now officially been confirmed for limited series build. The announcement was made by the automaker's R&D chief, Klaus Draeger, at a press event to commemorate the original start of development on this super-green all-wheel-drive 2+2 GT. While admitting that the final configuration and specifications -- as well as its official model designation -- are still in process, Draeger indicated that BMW intends to have the car on sale sometime in 2013. One other pertinent detail about a vehicle destined to serve as the technological leader of BMW's formidable product lineup also remained undisclosed: pricing. However, if you really have to ask...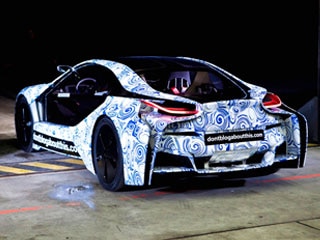 With its ultra-sleek (0.22 coefficent of drag) carbon-fiber bodywork, swing-wing doors and dramatically styled interior, the BMW Vision EfficientDynamics Concept matches its stunning physical presence with an equally distinctive interpretation of high-performance plug-in hybrid powertrain tech. It consists of a three-cylinder turbodiesel engine with an electric motor/generator that powers the rear wheels via a six-speed dual-clutch gearbox and a supplemental motor/generator unit that drives the front wheels. The system develops 328 combined horsepower, sufficient to send the 3,076-lb Vision EfficientDynamics Concept streaking from 0-60 mph in less than 4.8 seconds and on to a top end of 155 mph.
The advanced lithium-polymer (Li-poly) battery pack in the BMW Vision EfficientDynamics Concept lets it travel 31 miles on pure electric power and its 6.6-gallon fuel tank can extend that distance to 435 total miles. In addition to conventional integrated regenerative braking the car's mileage-maxing bags of tricks also includes the firm's Thermo-Electric Generator package that converts normally wasted exhaust heat into electrical energy. BWM says the Li-poly battery pack can be replenished on a standard 220V Euro-spec outlet in 2.5 hours. It also admits that while the electrical side of the equation is pretty will fixed, there's at least a possibility that the turbodiesel engine could be swapped for a gasoline alternative in some markets.