BMW Vision ConnectedDrive Concept - Geneva Auto Show
by
KBB.com Editors
|
February 11, 2011 12:18 PM
Preparing to make its first public appearance in Geneva, the dramatically styled and techno-rich BMW Vision ConnectedDrive Concept is a one-off exercise that reportedly points the way towards a good deal of what we'll be seeing in future volume-build models from the German automaker. The asymmetric hood flourish on this two-seat roadster is likely to remain a part of the show-only world, but the Vision ConnectedDrive Concept's "layered" bodywork and innovative BMW-with-a-twist headlamp and taillamp treatments are cues that are likely to serve as clues to the look of tomorrow.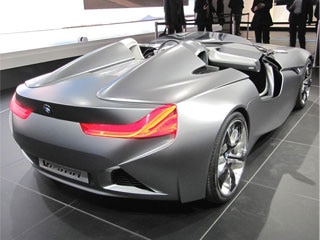 Beneath its intriguingly sculpted skin, BMW states that the Vision ConnectedDrive study "demonstrates current and future methods of mobile networking in a particularly focused way" and that its design and technology "are aimed at making the vehicle an integral part of a networked world."
>See more new cars unveiled at the 2011 Geneva Auto Show
To that end, its also-asymmetric cabin configuration keeps emphasis on the driver but disposes with a conventional instrument cluster in favor of a trick 3D heads-up display that can tailor -- and graphically prioritize -- the information it presents to real-time road/traffic conditions and is complemented by a new generation of the firm's iDrive multifunction controller.
A second, smaller in-dash readout provides supplemental data to the driver while the passenger-seat occupant can assist in handling various logistical or entertainment-related functions by interacting with a screen on the right side of the dash.
No word yet on any powertrain details about the BMW Vision ConnectedDrive Concept, although it would seem likely that the platform is designed to accommodate any of several new-gen sources currently being deveoped by the automaker.