BMW M3 pickup -- an April Fool fantasy, but no joke
by
KBB.com Editors
|
April 1, 2011 1:07 PM
During the past several weeks, this unique high-velocity hauler has been spied lapping the famed Nordschleife circuit at the Nürburgring wearing various types of camouflage. Today, the automaker admitted that its BMW M3 Pickup is just a bit of April Fools fun, although as you might expect from its heritage, it's also a fully engineered package that carries the M3's potent 420-horsepower V8 underhood and can reach a top speed of 300 kp/h (186 mph). Although BMW has yet to release lap times for this overachieving one-off, its full M-spec suspension should ensure the M3 Pickup can carve though corners as impressively as it streaks down straightaways.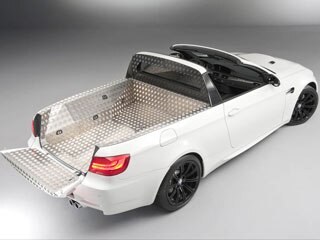 Fitted with a lift-removable Targa top panel, this most utilitarian take on the M3 platform weighs about 110 pounds less than the production Convertible variant; and configuring the M3 Pickup in al fresco mode cuts another 44 pounds while further lowering its center of gravity. Clad in high-grade structured aluminum sheeting, the M3 Pickup's load bed can tote up to 450 kg (992 lb) -- a performance stat BMW proudly notes is the highest ever for any M car -- and has room to accommodate 20 golf bags. It's also the first M exercise to be fitted with a standard trailer hitch.
Although it has gone through all of the requisite certification processes to grant it legal roadworthiness, BMW resolutely states that the M3 Pickup will remain a one-off, destined to serve out its days as an admittedly very cool work transport vehicle for BMW M GmbH.