BMW i8 Concept - Frankfurt Auto Show
by
KBB.com Editors
|
September 12, 2011 12:15 PM
Explicitly charged with delivering super performance on a grandly green scale, the BMW i8 Concept blatantly ratchets up each of its LifeDrive elements in a well focused and highly efficient manner. Its CFRP (carbon-fiber reinforced plastic) body shares the same color scheme, design sensibilities and attention to aero detailing as the BMW i3, but endows every element with decidedly more aggressive flair. The i8 Concept's expressive front and rear treatments go wide and low to stress its leaner, meaner character which is further emphasized by even more stylized LED lights and a black translucent V-shaped element in that extends back from the grille to the base of its steeply-raked windscreen.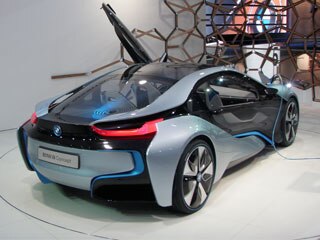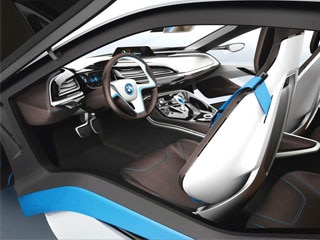 A 2+2 design, the BMW i8 Concept also dispenses with a B-pillar but features a large, front-hinged swing up/out door on each side to ease access to its interior. The cabin incorporates many basic cues seen in the i3 Concept but is considerably more driver-focused in layout specifics and design details. One other key difference: Where the i3 Concept has a virtually flat floor, the i8 Concept features a central tunnel that bisects the cabin and also houses its lithium-ion battery pack.
Delivering its one-two motivational punch, the BMW i8 Concept is fitted with both electric and internal combustion elements. Energized by the aforementioned battery pack, a front-mounted motor ships its 129 horsepower and 184 lb-ft of torque to the front wheels. In the rear, the 1.5-liter turbodiesel used in the i8 Concept's predecessor, BMW's Vision ED, has given way to a new 1.3-liter/3-cylinder turbocharged gasoline engine mated to a dual-clutch transmission that puts its 221 ponies and 221 lb-ft of twist to the pavement via the rear tires. Collectively, the stats total a most impressive 349 horsepower and 406 lb-ft of torque, sufficient to send the 3,263-pound new-age GT from 0-62 mph in 4.6 seconds and carry it on to a 155 mph top end.
In addition to being able to travel up to 20 miles in pure EV mode, this sophisticated hybrid system delivers over 78 mpg on the European test cycle. Because the battery is much smaller than the one in the i3 Concept, the pack can be recharged in two hours using a standard 240V outlet. The BMW i8 Concept also is fitted with a sophisticated regenerative braking system as well as a full array of electronic dynamic/stability controls to make sure that its handling matches its appearance.