BMW i3 Concept - Frankfurt Auto Show
by
KBB.com Editors
|
September 12, 2011 12:04 PM
As it prepares to set off on its own trip down Electric Avenue, BMW unveiled a concept version of its nascent BMW i3 in Frankfurt. Due to launch in production in 2013, this diminutive EV urban transporter was developed from the ground up with a primary focus on overall sustainability. Like the BMW i8 that also bowed in at the show, the BMW i3 features the automaker's innovative "LifeDrive" architecture that teams carbon fiber body elements with an aluminum-intensive structural component. With its dramatic design flourishes and loads of advanced mobility/connectivity systems, BMW is intent on having both vehicles expand the definition of what it means to be a 21st century "Ultimate Driving Machine."
>See more new cars unveiled at the 2011 Frankfurt Auto Show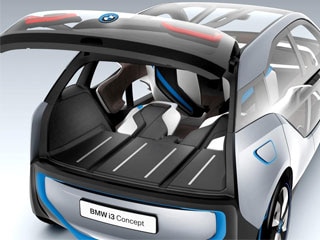 A pure EV in this initial incarnation, the BMW i3 Concept is built around a full carbon-fiber reinforced plastic (CFRP) "Life" module that will form the basis of its future production counterpart. In addition to helping trim curb weight of this four-passenger city slicker to a mere 2,750 pounds -- some 550-770 pounds below other conventional EVs -- the advanced CFRP upper structure also provides occupants with exceptional protection from crash impacts.
Like its i8 Concept runningmate, the exterior styling on the i3 Concept has been aerodynamically optimized and includes a fully-enclosed underbody and BMW's AirCurtains flow-channeling elements. It displays a boldly three-dimensional character with distinctive color-coded Sliver Flow/High-gloss Black layers that overlay and interlock in a way that contributes to an even more dynamic appearance and serves to further highlight the car's prominent greenhouse area. The i3 Concept's front end, with its U-shaped LED headlamps and variation on BMW's twin-kidney grille, complements an equally stylized rear treatment that features similarly rendered taillamps and a hatch with retractable back glass. A set of 19-inch alloy wheels give the car a more planted look, while the absence of a B-pillar and front-hinged/rear-hinged doors simplify access to the i3's equally futuristic cabin.
Inside, the passenger compartment picks up on the "layered" look, and sets off its Porcelain White and Dark Anthracite hard bits with Blue Stream accent touches from the i3 Concept's exterior and Mocha Brown leather upholstery. Renewable and naturally-treated raw materials appear prominently throughout the i3 Concept's inner sanctum, and 25 percent of the plastic, by weight, is either renewable raw or recycled. In a break with tradition, both front and rear seats in the i3 Concept feature full-width lower cushions with individually adjustable contoured backs. The rear pair fold flat to add even more versatility to its 7.1 cu ft of cargo space.
The freestanding steering column on this groundbreaking BMW incorporates not only a multifunction steering wheel but the car's 6.5-inch digital instrument cluster, start/stop button and an abbreviated gearshift lever. A large 8.8-inch touch-sensitive central information display (CID) screen completes the package, and permits quick, direct access to control everything from basic audio and climate systems to fully exploiting the capabilities of BMW i intelligent navigation and a plethora of other infotainment and mobility services.
Underpinning both the i3 Concept as well as the i8 Concept is the Drive module, a strong and rigid light-alloy underlayment that integrates the power module, battery pack and suspension along with various structural and crash/crush elements. Motivation for the i3 Concept is provided by a compact electric motor/generator mounted over the rear axle along with the control electronics, single-speed transmission and differential. Capable of making 170 horsepower and 184 lb-ft of torque, it's matched with an equally compact, climate-conditioned lithium-ion battery pack that's mounted low under the floor to keep it out of harm's way and help optimize weight distribution. Capable of an 80-100 mile daily operational range, it can propel the i3 Concept from 0-37 mph in 3.9 seconds, 0-62 mph in 7.9 ticks and carry it to an electronically limited 93-mph top speed.
Beyond any juice collected via the car's regenerative braking system, fully recharging the battery pack takes about six hours using a standard 240V outlet. However, it only requires an hour to perform an 80-percent replenishment using a dedicated quick charger. For those with lingering range anxiety, BMW also plans to offer the i3 in an optional "REx" configuration. This range-extender variant will include a small gasoline engine to drive a generator that will keep the battery charged and the vehicle running solely on electric power.