BMW Concept M5 -- Shanghai surprise ready to get real
by
KBB.com Editors
|
April 4, 2011 11:46 AM
Set for its formal unveiling later this month at the Shanghai Auto Show, the BMW Concept M5 is a "production oriented" one-off that promises to set an even higher benchmark for the next incarnation of an already legendary ultra-performance sedan. Save for its tacit admission that this "near-series" package represents is a lot of what we can expect in the 2012 BMW M5, the automaker dropped only a modest number of facts about the car's mechanicals when it revealed the Concept M5 to a group of journalists and M5 owners this weekend at a private gathering in Munich.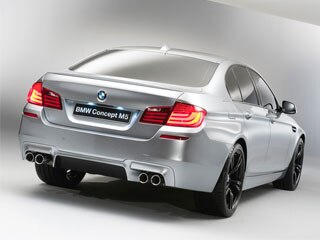 Visually, the BMW Concept M5 boasts more aggressive and aero-optimized front and rear fascia treatments, highlighted by larger air intakes in the nose and a tasteful decklid spoiler set off by twin-paired chrome exhaust outlets. Its slightly wider fenders accommodate black-finish 20-inch alloy wheels wrapped in 265/35 Michelin Pilot Super Sport performance rubber. Those super-sticky boots work in concert with M-massaged suspension, steering and brake systems -- although no specifics were offered as to the exact nature of the changes -- as well the famed torque-vectoring Active M Differential. While blackout windows made it impossible to know about any interior changes, it's certain that both the Concept M5 and subsequent 2012 BMW M5 production variant will benefit from equally comprehensive and well-focused M-wrought tweaks.
As for its motivation, BMW will only admit that the "high-revving V8 power unit with M TwinPower Turbo Technology" beneath the Concept M5's hood is "worthy of a high-performance sports car." Earlier comments indicate that the engine -- a more potent derivative of the 4.4-liter V8 used in BMW's X5 M and X6 M models -- is likely tuned to turn out between 560 and 590 horsepower which gets sent to the rear wheels via a seven-speed dual-clutch automatic transmission with Drivelogic technology. We'll have to wait for its appearance in Shanghai to verify the output numbers -- and to see whether the strong and continuing speculation that BMW also will offer U.S. production M5 models with a six-speed manual transmission proves true. Other production intent items of note on the BMW Concept M5 include start/stop technology that reportedly will bump fuel economy on the new production BMW M5 by some 25 percent as well as the ability to choose from four different -- Comfort/Sport/Sport Plus/M -- driving modes at the push of a button.