BMW Concept e Scooter - Frankfurt Auto Show
by
KBB.com Editors
|
September 20, 2011 2:11 PM
Urban Mobility has become a major theme throughout the BMW empire, and that includes its two-wheel Motorrad Group. As it prepares to launch a pair of new maxi scooters with two-cylinder gasoline engines later this year, the organization is also exploring design possibilities for a pure electric alternative. The end product of that thinking was on display in Frankfurt in the form of the BMW Concept e.
According to BMW, this smartly styled and fully engineered exercise is far more than just a two-wheeled one off. "The Concept e is the conceptual blueprint of a scooter able to set new standards with innovative premium electrical drive and provide a sound alternative form of mobility suitable for everyday use in the dense traffic of the constantly expanding conurbation areas and cities of the world today."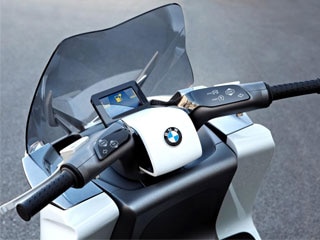 With colors chosen to symbolize its technical character and styling that blends both BMW motorcycle and passenger car cues, the Concept e's outward appearance and the use of materials like acrylic glass and milled aluminum was meant to reflect the unique nature of its electric drive as well as to make it resonate emotionally with the rider. Trick details include a pair of rear mounted video cameras that provide a look at surrounding traffic while eliminating the need for mirrors and two LCD monitors that offer clear, concise information on speed, state of charge and other pertinent data.
Although technical details on its drive system were limited, BMW did say that the power electronics and battery technology were drawn from what it has learned from the BMW "i" program and that the Concept e possesses the kind of performance capability that will equal a conventional maxi-scooter in both quickness and handling. Its high-voltage electrics, a battery pack with "generous" storage capacity, intelligent power management and efficient regenerative braking reportedly give this zero-emissions traveler a real-world range of 60-plus miles on a single charge with full electronic replenishment requiring less than three hours using any standard home outlet.