BMW Concept 6 Series Coupe -- Paris Auto Show
by
KBB.com Editors
|
September 21, 2010 9:45 AM
A logical follow-on to the striking four-door Gran Coupe concept shown in Beijing last April, the BMW Concept 6 Series Coupe makes it public debut in Paris. Although the automaker technically refers to this equally sleek two-door iteration as a "design study for a premium-class 2+2 seater," there's strong reason to believe that much of what the one-off previews will become part of the production version of the next-gen 2012 BMW 6 Series, which is due to arrive next spring in Convertible form and as a Coupe in the fall.
Based on specifically tailored versions of the electrical and platform architecture shared with the latest BMW 5 Series and 7 Series models, the BMW Concept 6 Series Coupe retains the same basic sense of proportion as the exiting 6 Series but is marginally longer, lower and wider, which gives it a more dramatic presence. Bolder but well-integrated contours in its new face, tail and silhouette further add to the impact, as do slick details like corner-following adaptive headlamps and distinctive L-shaped taillamps -- both LED-based -- and 20-inch alloy wheels milled from aluminum billet. This one-off portent of the production 6 Series also features a full glass roof panel.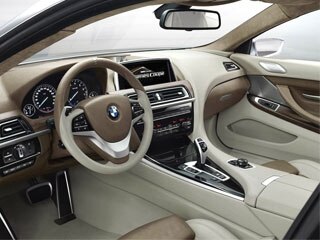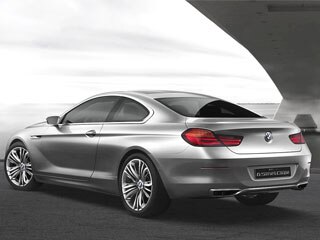 Inside its leather-lined cabin, the BMW Concept 6 Series Coupe gains even more contemporary flair, highlighted by its asymmetrically configured dash/console treatment that sees all of the main dash elements angled towards the driver for quick easy scan and access. The highly adjustable/deeply contoured front buckets are matched with a pair of offer individually rear seats that reportedly offer "lavish headroom, legroom and shoulder room, providing first-class comfort even on long journeys."
Techology with purpose
Electronic highlights of the BMW Concept 6 Series Coupe include a black-panel instrument display that features virtual main gauges and as-required supplemental readouts plus the latest iteration of the automaker's integrated iDrive controller system. The latter is teamed with a 10.2-inch full-color LED screen that serves up comprehensive information for every driver-selectable vehicle setting along with the navigation maps as well as a new head-up display that provides the driver all critical data with minimal distraction. As a finishing touch, the BMW Concept 6 Series Coupe is fitted with a custom-designed 16-speaker Bang & Olufsen surround sound audio system.
While BMW provided no information on the powertain in the Concept 6 Coupe, U.S.-spec versions of the 2012 BMW 6 Series are expected to offer at least the 4.4-liter twin-turbo V8. Our sources indicate that a version of the turbocharged 3.0-liter inline-six used in the new 740i also might be on the menu and that at some point, a new incarnation of the take-no-prisoners M6 will make a return appearance of its own.