BMW 328 Hommage Concept - New take on a classic sportscar theme
by
KBB.com Editors
|
May 25, 2011 12:05 PM
Another major debut at the Concorso d'Eleganza Villa d'Este in Como, Italy, the striking BMW 328 Hommage was created to help celebrate the 75th anniversary of the original BMW 328 roadster, a stylish, lightweight, high-performance two-seater that many contend ranks as the seminal sports machine of the 1930s. Using modern-day materials and engineering techniques, this contemporary take on that iconic offering speculates on the kind of vehicle the designers of the original BMW 328, Fritz Fiedler and Rudolf Schleicher, might have used if they were still around today.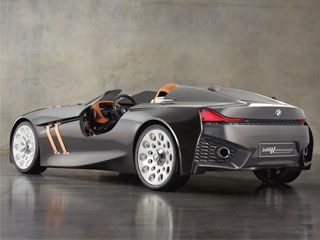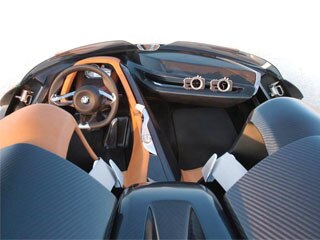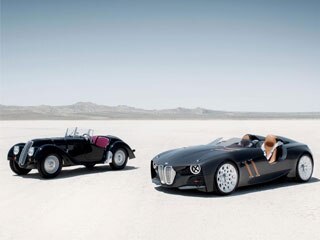 As the automaker's first series-production car to focus on eliminating excess mass, the original production BMW 328 relied on aluminum and magnesium to keep curb weight to a minimum. The one-off BMW 328 Hommage is based on more contemporary racing-derived composites, which also are destined to play a key role in future BMW series-build vehicles. Its tub, bodywork and many interior bits are rendered in even stronger, and lighter carbon fiber reinforced plastic (CFRP), all of which is intentionally left in its raw, unpainted state.
While the lower, wider Hommage reflects a clear reshuffling of many key proportions compared to the production BMW 328, a number of shared cues remain, from its round headlamps and signature twin-kidney grille elements to a modern interpretation of the original two-piece wheels. Where the BMW 328 featured doors with a cut-down design, the Hommage simply dispenses with them altogether, saving a few more precious pounds.
Inside, the BMW 328 Hommage features a unique, driver-oriented environment rendered in CFRP set off by aluminum and saddle-tan leather done in a slightly antique finish. Angled CFRP support elements create a de facto cockpit that's asymmetrically divided into two distinct functional areas, a detail also reflected in the configuration of the car's laidback windscreen. Each side is fitted with an ergonomically shaped sport seat and a four-point racing-style seatbelt. To further emphasize its competition character, the rather Spartan dash in the 328 Hommage is dominated by a large, round tachometer, as it was in the original. Supplemental instrumentation is confined to oil temperature, oil pressure and water temperature gauges, an array of control lamps and a gearshift indicator readout -- all positioned ahead of the thick-rimmed three-spoke steering wheel -- plus a motorsport-type master electrical shutoff switch that resides between the seats.
Integrated into the dash ahead of the co-driver but visible to both passengers, sits what BMW is calling the "tripmaster," a pair of removable iPhones nestled into housings rendered to look like a traditional rally chronometer. Each iPhone can be configured to serve as a timing device or GPS roadbook.
Save for indicating that the BMW 328 Hommage is fitted with a high-powered 3.0-liter six-cylinder engine, the automaker offered no other details about the car's powertrain or performance numbers.