Best Questions: 2014 Land Rover Range Rover Sport
by
KBB.com Editors
|
September 24, 2013 7:21 PM
The Range Rover Sport has been completely redesigned for 2014, and as part of the getting-to-know-you phase of the relationship we asked KBB.com visitors and our social media followers what questions we could answer about the sportiest Land Rover ever while we spent four weeks with it on our home turf.
But before we dive into the best of those questions, let's quickly answer this one:
"What is it?"
The new Range Rover Sport is a luxury crossover SUV that starts at $63,495 and ekes into the six-figure range for a well-equipped Range Rover Sport Autobiography, the model we tested in-house. Obvious competitors include the Porsche Cayenne and BMW X6, but it overlaps to varying degrees with a host of high-dollar SUVs.
Our first exposure to the car included two days of driving in its native land. From our 2014 Range Rover Sport full review: "We drove the 2014 Range Rover Sport over undulating English country roads, through tightly spaced old English towns, up muddy hills, into and out of the deepest water we've ever braved, and on an active English runway at 145 mph, and it was brilliant every step of the way."
Around the same time as our first drive, the 2014 Range Rover Sport set a Pike's Peak record as the fastest production car ever to make the 12-mile climb from 9,390 to 14,110 feet above sea level. Funny what you can do with a 510-horsepower supercharged V8.
If this already sounds like the car you hoped it would be, go build and price a 2014 Land Rover Range Rover Sport to your liking. If you still have questions, see if we've answered them below.
Q: "What's different between the original Range Rover and the Sport?" –Katie B.
A: There are many similarities between the two, but the Range Rover Sport is smaller, sportier and starts $20,000 less than the Range Rover. Curiously, the smaller Range Rover Sport is the only one with an optional third row.
Q: "How are the off-road capabilities compared to the classic Range Rovers?" –Bill H.
A: We had the opportunity to do some pretty serious off-roading in the Range Rover Sport on two separate occasions — including a thorough test at a Land Rover Experience center — and were amazed several times not only by what the Range Rover Sport could do, but how easily it could do it. Tuning the Range Rover Sport to be a responsive on-roader is not without its compromises — 21-inch, low-profile tires aren't your typical mudders — but the Sport has the ground clearance, approach angles, suspension and technology to qualify it as one the most capable off-roaders in the world.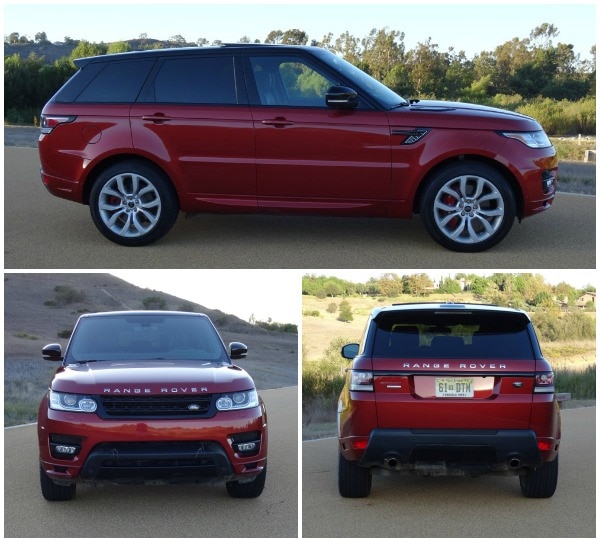 Q: "How fast is the Range Rover Sport compared to its competitors?" –Chris R.
A: Land Rover says the V6 version will run to 60 mph in 6.9 seconds, but anyone asking about speed is more interested in the 5.0-liter supercharged V8. According to the automaker, the 510-horsepower engine will power the Range Rover Sport to 60 mph in 5 seconds flat. BMW says the 555-horsepower X6 M will do it in 4.5 seconds, and Porsche claims the Cayenne Turbo S takes 4.3 seconds. We had the opportunity to launch a V8 model to 100 mph and back to a stop - pedal to the metal in each phase - and were impressed not only by the acceleration but also the lack of drama in braking from that speed. After that we drove to one end of the English runway on which we were testing and floored it clear to the other end, reaching a top speed of 145 mph. Again, the composure impressed us as much as the velocity.
Q: "How much does this Range Rover cost?" –Mercy A.
A: The 2014 Range Rover Sport starts at around $63,000 for an SE model with a 340-horsepower supercharged V6, the V8 version starts around $81,000, and the top-line Autobiography trim starts at $94,000 with room for more than $10,000 in options.
Q: "How much room is there in the third row and behind the third row?" –Kurt K.
A: Our Range Rover Sport test car didn't have the newly optional third-row seat, but by all accounts it's not the kind of seat to which you'd want to subject likable adults on a regular basis, if at all. And if you need room for seven people and their luggage, you'll definitely need something larger. We're fans, though, of a 5+2 setup for families who don't need a third row on a regular basis but could use one every once in a while.
Q: "I would want to know if this Range Rover has reliability issues as has been the case with almost all their models." –Anthony U.
A: On one hand, this is an all-new vehicle with a squeaky clean record. On the other hand, it's a first-year model from an automaker better known for capability than reliability. Is the Range Rover Sport likely to be as trouble-free as a Lexus? Probably not. Is the Range Rover Sport cooler, more stylish and more lustworthy than any Lexus SUV? Definitely. The key to making a good decision is being aware of the tradeoffs.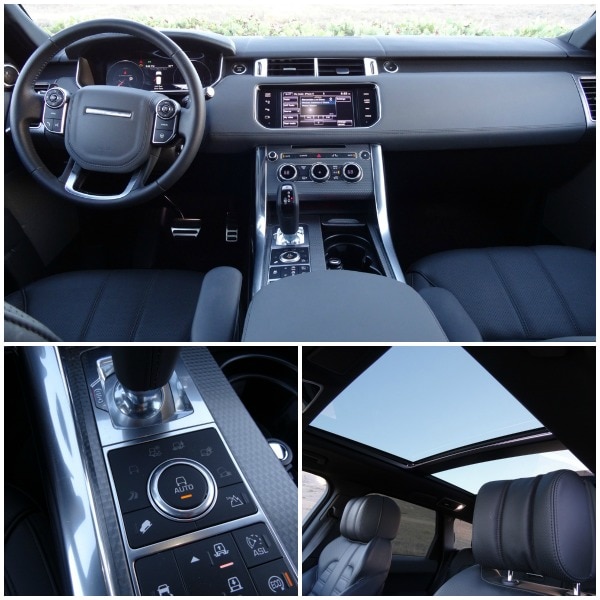 Q: "What do you think of the fuel economy and trunk space?" –Gregory B.
A: Fuel economy has been greatly improved compared to the last Range Rover Sport — thanks in no small part to a claimed weight loss of around 800 pounds — and the 340-horsepower V6 is now rated to return city/highway/combined fuel economy of 17/23/19 mpg. The V8 is rated at 14/19/16 by the EPA, and we averaged about 15 mpg in our time with the car. Green cars they aren't, but those figures are in line with the competition. As for cargo space, the load floor seems wide and deep enough for most needs, and an available 40/20/40 split folding rear seat adds flexibility. Rear cargo volume is on par with the Porsche Cayenne, and tops the BMW X6.
Q: "Is it a good road trip vehicle?" –Kris S.
A: Definitely. If given the choice we might go with the roomier, softer Range Rover for a long journey, but the automaker has done a terrific job of turning this big machine into a sporty SUV while maintaining a luxury-level highway ride.
Q: "What is the coolest feature?" –Hi H.
A: The Range Rover Sport is comfortable on the highway, eager around town and incredible off road, and the available Adaptive Dynamics system expands those capabilities in all directions.
Last Question
The question we're ultimately trying to help answer is, "Should I buy a Range Rover Sport?" If you're looking for the latest and greatest in head-turning, high-lux crossovers, the answer might be a Yes. If you're seeking maximum practicality and value, it's probably a No. What we can say for sure is that we thoroughly enjoyed our four weeks in the 2014 Range Rover Sport, and we'd consider it a must-look for any Cayenne or X6 shopper.
The key is knowing the tradeoffs.
See it in Action
We've driven the 2014 Range Rover Sport over rocks, through mud and with velocity on several occasions now, capturing our latest excursion in the video above (or here). You've read the answers, now see them.
Gallery: 2014 Land Rover Range Rover Sport Inside and Out
The 2014 Land Rover Lineup