Best Questions: 2014 Jaguar F-Type
by
KBB.com Editors
|
June 13, 2013 9:39 AM
We asked KBB.com visitors and our social media followers what questions we could answer about the 2014 Jaguar F-Type while we had it in the stable. Here are the best of those questions, and our best answers (and don't miss the video, below).
Q: "Which one is better? The V8 or 380hp V6?" —Aaron Carpenter
A: The Jaguar F-Type V8 S offers a whopping 495 horsepower, a blistering 0-60 mph time of 4.2 seconds and an addicting exhaust soundtrack. The V6-powered F-Type S isn't quite as powerful or as quick - 380 hp, 4.8 seconds - but it's also lighter by 100+ pounds and $11,000. Many F-Type buyers will settle for nothing less than the priciest, most powerful version, of course, but some purists will prefer the lighter, less powerful F-Type S for its superior directional response and more accessible power limits. The same drivers, for instance, who can afford a Porsche 911 but buy a Cayman.
Q: "What size suitcase can you fit in the trunk? It would be useful to see if this car is up for a romantic road-trip." —Mayuresh Gaikwad
A: Soft duffle bags work better than suitcases in the F-Type's disproportionately small trunk. With less cargo area than the smaller BMW Z4, storage isn't this car's strong suit.
Q: "Say we option the cheapest 911 cabriolet with exactly the luxury features of the V6S. How much would the 911 cost vs. the V6S?" —Mayuresh Gaikwad
A: Apples-to-apples, feature-based price comparisons are more accurate and useful for homogeneous midsize sedans than for cars like these, but the 380-horsepower F-Type S starts at about $82,000 with destination, while the 350-horsepower Porsche 911 Carrera Cabriolet starts at more than $97,000. But the Corvette offers 430 horsepower for about $50,000, so you can see where these price comparisons can break down.
Q: "Compare the V8S with a comparably loaded Porsche 911 Carrera S Cabriolet in terms of price." —Mayuresh Gaikwad
A: So demanding, Mayuresh. You can get a fully loaded 2014 Jaguar F-Type V8 S with 495 horsepower for about the same price as a base 911 Carrera S Cabriolet with "only" 400 horsepower ($112,000, give or take a couple grand).
Q: "How's the body roll on this sexy beast?" —Joshua Farrell
A: Body roll is a non-issue in the low, wide, sport-tuned F-Type. On a related note, F-Type S and V8 S models can be both stiffer and softer than the base model, thanks to an Adaptive Dynamics system with driver-adjustable suspension settings.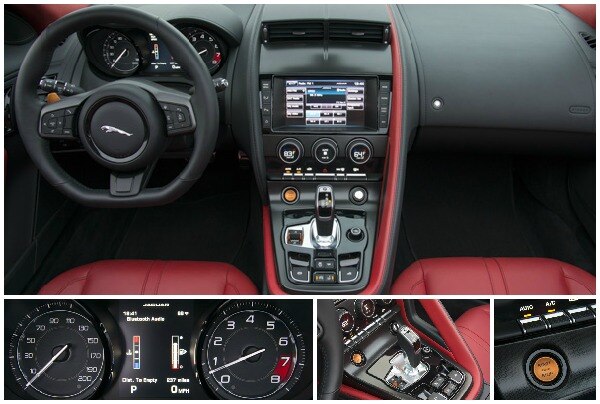 Q: "How does the ride experience compare between the V6 and V6 S? And is the cost difference worth the expense?" —Greg Paulus
A: If you're drawn to the F-Type as a sporty, head-turning convertible, the base model is plenty of car. But if you'll actually be exploring its handling and acceleration limits on a semi-regular basis, the added 40 horsepower, adjustable suspension and limited-slip differential are probably worth the added cost.
Q: "What's the best use of technology advancements on the new Jaguar F-Type?" —Scott Brown
A: Aluminum-intensive construction may be the F-Type's most advanced quality relative to its competitors, and Jaguar says more than 50 percent is reclaimed or recycled. There's otherwise nothing particularly ground-breaking about the F-Type, which will likely prove part of the appeal for some (it even has hydraulic, not electric, power steering).
Q: "How does it compare with the current Chevrolet Corvette?" —Bob O'Neill
A: In a nutshell, the Corvette offers more power for less money, while the (insert high-power, premium-badged performance car here) offers more exclusivity and refinement.
More F-Type: The Editors' Page
Q: "What is the wait time if I order next week?" —Jade Harris
A: As of early June, Jaguar said the new F-Type is sold out through the end of the year. But the faster you get that order in, the sooner you'll get your car.
Q: "What does the F in F-Type stand for?" -Kathleen T.
A: It stands for "we've finally made a worthy direct successor to the legendary Jaguar E-Type that we stopped building 40 years ago."
Q: "How does driving the F-Type make you feel?" —Anish Banker
A: Driving the F-Type around town can make you feel like a celebrity at Disneyland, with so much looking and pointing and picture taking (and this in exotic-car-saturated Southern California). Driving it on a great road with the top down on a sunny day, it's one of the cars that can remind you it's good to be alive.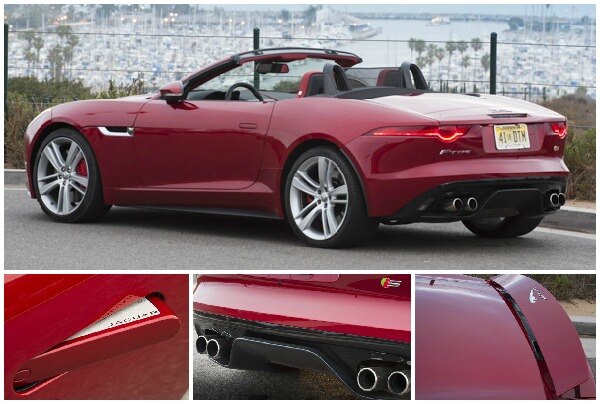 Q: "Do any of these vehicles come with a supercharged engine?" —Dino Zavaroni
A: All three versions, in fact, feature the forced-air induction of supercharging. When you push more air into the combustion chamber you can squirt more gas, make a bigger bang and have more fun. More automakers these days are using forced induction (turbocharging, mostly) to reduce engine size and increase fuel economy, but the 2014 Jaguar F-Type employs it primarily in the name of increased heartrate.
Q: "I have had a 1954 Jaguar XK-120M since 1966. While it is totally 'devoid' of what we call creature comforts, there are few automobiles on the planet as exciting and totally intoxicating to drive. It leaves much to be desired in hard cornering, as it does in weather protection for the occupants - but the 'fun quotient' has yet to be equaled. What is it about the F-Type that brings this excitement back to Jaguar two-seat motoring? ...or does it?" —John Keller
A: Excellent question. The short answer is that the F-Type is indeed a proper performance car that delivers on the promise of its looks and its name. To get a better feel for exactly how and to what degree, watch the F-Type get sideways in the video below.
More F-Type: Build and price your own
Q: "I'm 6'4". Do I have headroom and legroom?" —Jeff Ilten
A: Yes, you do. We can say that with some certainty, because KBB.com editor Rich Homan is a handy 6'5".
Q: "Is a retractable hard top available?" —Hillard Logsdon
A: The F-Type is only available in soft-top convertible form right now, but there is a coupe version in the works. We like the shapely style of a good retractable hardtop, but we also appreciate the performance focus that a soft top can convey.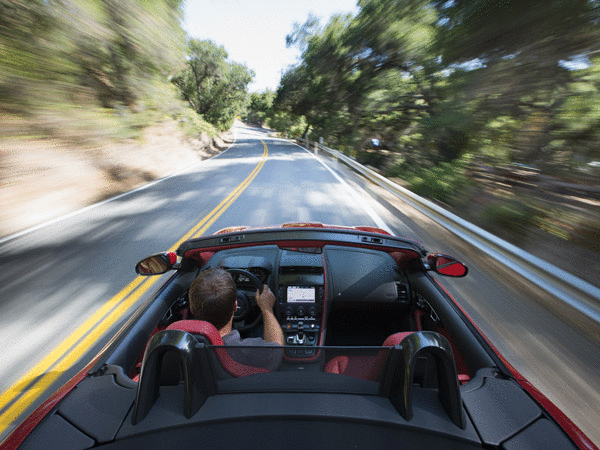 Q: "Is there a way to be certain of the quality of the car? Jaguar has a reputation for making sports cars that are wonderful to look at but a nightmare to own because of poor quality. I can't help but wonder if they've finally overcome that problem." —Stuart Anderson
A: Jaguar's darkest days are behind it, but if you're looking first and foremost for a hassle-free luxury ownership experience, you'll still want to place your bet on a Lexus. Choosing a Jaguar has long required a compromise in long-term quality and resale value, but as long as you're aware of the tradeoffs you can make an informed buying decision. We can't say for sure how this brand-new model is going to withstand the years and miles, but we do know it has a 4-year/50,000-mile warranty, and the biggest risk to owners in that time frame is the potential hassle of multiple dealership visits.
More F-Type: Words and video from our first taste in Spain
Q: "Why did Jaguar decide not to offer the F-Type in a manual transmission, and are there any plans to?" —Elizabeth Srannard
A: Surely some folks within Jaguar would like to offer a manual transmission, but today's automatic transmissions are so good that fewer buyers are choosing manuals, making it harder to justify and recoup the added costs (development, manufacturing, etc.). For what it's worth, the F-Type's quick-shifting, smart and responsive ZF 8-speed automatic is one of the car's highlights.
Q: "If you had to compare it to an older Jag model, what would it be? Does it 'feel' like a Jag? Can you see any influence from their new owner, Tata Motors?" —Chris Thomas
A: If I had to compare the new F-Type to an older Jaguar model, the one I would point to is the E-Type. Yes, 50 years have elapsed and cars are different now than they were then, but the essentials of a true two-seater featuring a powerful front-mounted engine and rear drive remains the same. The F-Type is rife with electronic driver aids that were unheard of in the 1960s, but the feel of massive power and torque in a nimble package transcends time. The only Tata Motors influence is a very subtle one -- the Indian company seems to have given Jaguar the financial wherewithal to deliver exceptionally high quality to go with its innovative engineering. —Jack R. Nerad, Executive Editorial Director
Now See the F-Type in Action
We took the 2014 Jaguar F-Type and a bunch of video cameras to the track to help answer a handful of these same questions, but with more tire smoke. Watch the video below or here.