Best Buy Awards Pickup Truck 2015
by KBB.com Editors | November 14, 2014 7:59 AM
Our Pickup Truck Best Buy of 2015 demonstrates the category's most appealing mix of quality, value, features, driving dynamics, fuel economy, safety and more, as informed by yearlong vehicle testing, back-to-back comparisons and our industry-leading pricing and resale value insight.

2015 Ford F-150

The totally redesigned Ford F-150 is more capable, more efficient and poised to redefine the full-size pickup truck segment, making it our choice for the Pickup Truck Best Buy of 2015. In fact, we were so impressed with the F-150 that we named it the year's Overall Best Buy, too.

The Ford F-Series has been the best-selling vehicle in America for more than 30 years, because it's the right combination of capability and value. For 2015, Ford went even further with the F-150, using innovative ways to make the truck even more capable and add more value.
The 2015 Ford F-150 is set up better than ever to cater to the needs of today's truck buyer. The new truck is more refined, gets better fuel economy, and is the most capable in its class. Plus, it offers modern tech features to keep the driver and passengers connected, informed and entertained.
Dramatic Weight Loss
The F-150 is the first civilian truck to have a completely aluminum body. That, combined with a new tougher frame that uses more high-strength steel, has reduced the F-150's weight by as much as 700 pounds, depending on the model. Those two improvements make the truck more efficient and increase payload capacity. It also means that a smaller-displacement engine can power the truck beyond being proficient -- it's downright fun.
New Source of Power
There are four engines to choose from, but the gem of the group is the new 2.7-liter EcoBoost. This V6 engine, with 325 horsepower and 375 lb-ft of torque, hustles the agile F-150 around with the response and poise of a V8. And whether you are towing, carrying payload or driving an empty truck, the 2.7 feels just as confident. Following the example set by the larger 3.5-liter EcoBoost, the 2.7 offers the power of a V8 and should have even better fuel economy. It's also priced affordably, costing only $795 more than the base V6 engine.
Most Capable in its Class
The 2015 Ford F-150 is ready for hard work. It has the best towing capacity in its class, at 12,200 pounds. It has the best payload capacity in its class, at 3,300 pounds. It also has class-exclusive features such as a tailgate step that makes it easy to get into the bed to load gear, ramps for rolling equipment and small vehicles into the bed, and smart cargo management systems.
Carlike Refinement
The F-150's cabin is surprisingly quiet, and the materials and design inside look both upscale and built to last. Those who fear sitting in the middle seat in the back row of the F-150 SuperCrew can rest easy. There is no transmission hump there, so everyone in back has plenty of legroom. In fact, there's more rear-seat legroom in the SuperCrew than there is in the 2015 Mercedes-Benz S-Class sedan. There are also thoughtful touches inside, including a 360-degree camera for ease in parking, a driver-information center that can be reconfigured to show the data the driver wants to read, and seats that have been designed to greatly reduce fatigue on long drives.
Something for Everyone
The F-150 offers trim levels and pricing that can satisfy just about every truck shopper. With a range that starts with the most basic XL at just over $26,000, the F-150 choices stretch to include the XLT, Lariat, King Ranch and upscale Platinum. Buyers have a choice of four engines, three cabs, three bed lengths, rear- or 4-wheel drive, leather seats, navigation and connectivity choices, and more.
More 2015 Ford F-150
Build and price your own 2015 Ford F-150 to unlock its Fair Purchase Price, 5-Year Cost to Own and more, or jump straight to our review of the new F-150. As much as the F-150 has to offer, something else might catch your eye. Check out our Pickup Truck Buyer's Guide to look at all of your choices.
2015 Ford F-150 Photo Gallery
2015 Pickup Truck Best Buy Finalists

When it comes to choosing the pickup truck that's right for you, there are several options that provide different capabilities, personalities and priorities, and something here might be a better fit for you than the F-150.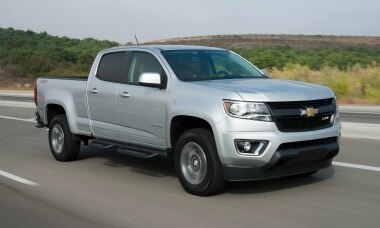 2015 Chevrolet Colorado
Re-entering the compact/midsize segment with refinement and capability.
For the first time in 10 years, there is a new compact/midsize truck, the Chevrolet Colorado. The new Colorado comes to market with more refinement, power, efficiency and capability than competitors Toyota Tacoma and Nissan Frontier. This big leap forward should appeal to people who want something smaller than a full-size truck, yet should also grab the attention of those who left the small-truck segment when it got stale. Its balance of refinement and amenities make it a well-rounded truck that could also appeal to crossover owners. As noted in our review of the 2015 Colorado, "The new Colorado has best-in-class towing, is expected to offer best-in-class fuel economy, and is first in its class to offer features like Forward Collision Alert, Lane Departure Warning and a standard back-up camera."
Build and price your own 2015 Chevrolet Colorado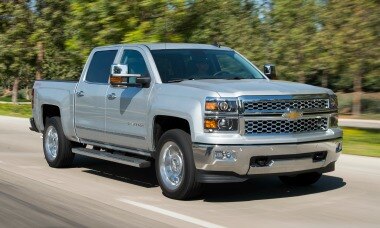 2015 Chevrolet Silverado
The most traditional choice, with plenty of modern technology to back it up.
The Chevrolet Silverado doesn't offer turbo V6 engines, a diesel option or an aluminum body. What it does do, however, is improve on a reliable formula of fuel-efficient V8 power, a tough truck frame and plenty of capability. The Silverado has one of the quietest cabins in a full-size truck, and its fuel economy savings are impressive. It also comes with features that make it easier to access cargo, such as the CornerStep bumper, and those that ease connectivity, like MyLink infotainment. As we said in our full review of the Silverado, "Road and wind noise are nicely quelled at highway speeds, while this full-size truck's suspension soaks up everything short of a sinkhole. Steering is light and precise, with responsiveness that belies the Silverado's portly dimensions." But the Silverado isn't the best in its class when it comes to capability, fuel economy or performance, so it may appeal more to Chevy fans than to truck shoppers in general.
Build and price your own 2015 Chevrolet Silverado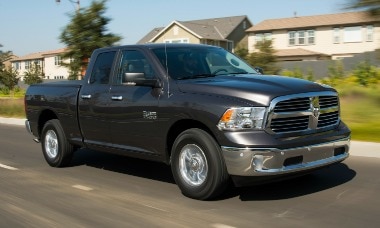 2015 Ram 1500
The best ride you can get in a full-size truck, with plenty of capability, too.
The Ram 1500 does a fantastic job of advancing the full-size truck segment, being the only one with rear coil springs and an available air suspension, the only one that comes standard with an 8-speed automatic transmission, and the only one with an available diesel engine. When it comes to the comfort versus capability equation, the Ram may lean slightly more toward comfort, but for many buyers who don't tow on a regular basis, this is the perfect balance. As we said in our review of the Ram truck, "the Ram 1500 pickup truck for 2015 delivers one of the most comfortable – dare we say car-like – rides of any full-size truck." Yet it can still tow over 10,000 pounds, which is nothing to sneeze at. As good as the Ram is, it was edged out by the F-150, which manages to combine best-in-class capability, excellent efficiency and a refined cabin, plus excellent power and confidence when towing and hauling.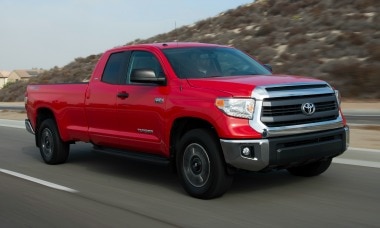 2015 Toyota Tundra
Matching Toyota's stellar reputation for reliability and quality with the capability truck buyers want.
Those who like the comfort and feel of Toyota's sedans may enjoy the DNA the Tundra shares with those models. Its 5.7-liter V8 engine is plenty powerful and the truck is tough enough to handle long days of hard work pulling a trailer, at the job site, or out in the dirt. The Tundra is roomy, and with two engines and a variety of trim levels that range from work-truck to American Southwest-inspired 1794 Edition, this truck gives buyers a spectrum of options. As we said in our full review of the Tundra, "On road and off, Toyota's full-size truck is still formidable. Its standard 310-horsepower, 4.6-liter V8 is more than acceptable for lighter duties, while the 381-horsepower, 5.7-liter V8 is up for almost any task (yes, it famously pulled the Space Shuttle over a bridge)." However, the Tundra is falling behind the competition. Its engines aren't as efficient or as refined as you can get elsewhere, and it doesn't have the same capability as other trucks in its class.
Build and price your own 2015 Toyota Tundra