Best Buy Awards Minivan/Van 2015
by
KBB.com Editors
|
November 14, 2014 8:03 AM
Our Minivan Best Buy of 2015 demonstrates the category's most appealing mix of quality, value, features, driving dynamics, fuel economy, safety and more, as informed by yearlong vehicle testing, back-to-back comparisons and our industry-leading pricing and resale value insight.

2015 Honda Odyssey

With unparalleled versatility, great features, and tons of space, the Honda Odyssey remains the king of minivans.
The 2015 Honda Odyssey has faced its competition and come out victorious, earning the top minivan spot in our inaugural Best Buys competition. With a solid edge over its competition in flexibility and family friendliness, the Odyssey fended off increasingly strong competition by starting with a solid foundation and building out from there.
The 2015 Odyssey is essentially the same solid package as the model that was one of our 12 Best Family Cars for 2014. With clever details like a best-in-class entertainment system, Honda's LaneWatch side-view camera, and an available built-in vacuum cleaner known as HondaVac, Honda shows it knows how to think inside this boxy vehicle. Yet that's all frosting on an already solid cake, one that offers unbeatable seating flexibility and excellent cargo space. Topping it off are very good driving dynamics, plenty of power, and class-leading fuel economy from a drivetrain that's standard on all Odyssey models.
Clever Details
Honda prefers to divide its models into trim levels, rather than offer things like a navigation system as a standalone option or as part of an option package. However, the Odyssey is available in a variety of upgrades, from the practical to the downright plutocratic. We've already mentioned the HondaVac, for example, a built-in vacuum cleaner that's standard on Odyssey Touring Elite models. You can also get a widescreen entertainment system that includes HDMI and RCA inputs. Navigation is also available, as is Honda's LaneWatch side-view camera system that's rapidly becoming commonplace in the manufacturer's lineup. The Odyssey EX-L adds leather, and is available with a single-screen entertainment system or navigation, but not both; for that, you'll have to step up to the Touring model.
Unbeatable Flexibility
But the best part of the Odyssey comes from its flexibility as a family hauler. If you have eight passengers, the Odyssey is unbeatable this side of an airport shuttle. No other van offers the flexibility of the Odyssey's second row, or the real-world comfort of its third row. Behind that third row is a cavernous cargo well; if that's not enough, the split third-row seats quickly fold flat into the floor. The 2nd-row seating offers a Wide Mode, which lets you slide the outside chairs further apart, creating enough space for three child booster seats side by side. Finally, if you need maximum cargo space, the second row seats remove easily, allowing an amazing 148.5 cubic feet of cargo space.
Driving Dynamics
The 2015 Honda Odyssey's performance can be measured in two ways. First, there's economy. The Odyssey offers fuel economy that handily trumps any of its competitors. Thanks to Variable Cylinder Management (VCM), which shuts off fuel flow to half the V6's cylinders at light throttle, the Odyssey is an excellent highway cruiser, with a comfortable ride and best-in-class fuel economy.
However, that same fuel-sipping V6 engine offers up 248 horsepower from its 3.5 liters, plenty of power to quickly move the Odyssey from a standstill. Combined with the quick shifting 6-speed automatic transmission, you'll almost never lack for passing power. The suspension is nicely sorted as well, turning this big family hauler into an almost nimble companion. We wish the steering felt a little sharper, but overall, the Odyssey is surprisingly fun to drive.
Price & Value
Don't let the as-tested $45,430 price of our loaded 2015 Honda Odyssey Touring Elite test vehicle scare you off. All of the Odyssey's fundamental goodness is available at virtually all price points, starting with the Odyssey LX at about $30,000. Odyssey EX, EX-L, Touring models and above have 8-passenger seating, which includes the Wide Mode second row. Prices start at a little more than $33,000 for the EX, spanning all the way to our top-of-the-line Touring Elite's $45,000-plus price tag.
Topping off the Odyssey's value case is its long-term ownership cost. While depreciation hits the Odyssey a little harder than the Toyota Sienna, the Odyssey's excellent fuel economy closes the gap, giving it an advantage in the long run. It's hard to find a sounder automotive investment.
More Honda Odyssey
You can build and price your own 2015 Honda Odyssey, unlock its Fair Purchase Price for your area, and more. For a deeper dive into the Odyssey, don't miss our full review of Honda's minivan. And while you won't go wrong with an Odyssey, it's possible that one of the other minivans on our list is better suited for your personal wants and needs. Check out our Minivan Buyer's Guide to see what else is out there.
2015 Honda Odyssey Photo Gallery
2015 Minivan Best Buy Finalists

The minivan competition was one of the tightest races in our 2015 Best Buy Awards testing. The redesignd Kia Sedona and impressively updated Toyota Sienna each made a strong case, and every minivan shopper should give both of them a closer look.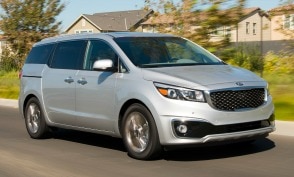 2015 Kia Sedona
A Strong Entry from an Unlikely Source
Imagine our surprise that the van giving the Honda Odyssey the most night sweats in our competition was the all-new 2015 Kia Sedona, easily the best looking minivan you can buy. With a more SUV-like profile, and a dash design that looks like it was pulled straight from one of its sedans, Kia has definitely hit the mark. Backing up the visual aesthetic is a van offering tremendous refinement, an easygoing driving style, and tons of features to make life easier for families.
However, while the Kia Sedona was definitely the style leader, the reality was that the Honda Odyssey simply outpaced it when it came to the core minivan values of family friendliness and flexibility. The Odyssey offered a more comfortable and roomier interior, and the Kia simply couldn't match the Odyssey's cargo hauling,
You can build and price your own 2015 Kia Sedona to check out its Fair Purchase Price, 5-Year Cost to Own, and more, including our full review of the 2015 Sedona.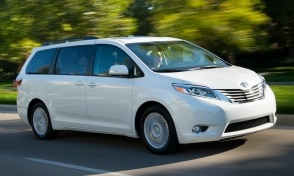 2015 Toyota Sienna
Re-Dressed for Success
When KBB.com's Managing Editor Jason Allan drove the newly updated 2015 Toyota Sienna, he came away impressed, and we looked forward to getting a new Sienna to our offices for the rest of our staff to evaluate. Unfortunately, that didn't come to pass, and we weren't able to directly compare the Sienna to the Sedona and Odyssey.
However, it's worth noting that the 2015 Sienna has some serious upgrades that make it worth considering. The new dash design, for example, offers a cleaner and more upscale appearance than before, with soft-touch materials, and new, more intuitive climate controls. There are also upgrades to its navigation and infotainment system, as well as contrast stitching on the seats on some models. Other improvements include an additional passenger-side airbag, larger curtain airbags, and an additional LATCH point, bringing the total number of child booster seats you can fit to four. Topping it off is 7- or 8-passenger seating, an available wide-screen rear-seat entertainment system, and the 2015 Sienna continues to be the only minivan available with all-wheel drive.
Option out your own 2015 Toyota Sienna and check out its Fair Purchase Price, along with its 5-Year Cost to Own, and more information, including our full review of the 2015 Sienna.