Best Buy Awards Luxury SUV/Crossover 2015
by
KBB.com Editors
|
November 14, 2014 9:46 AM
Our Luxury SUV Best Buy of 2015 demonstrates the category's most appealing mix of quality, value, features, driving dynamics, fuel economy, safety and more, as informed by yearlong vehicle testing, back-to-back comparisons and our industry-leading pricing and resale value insight.

2015 Acura MDX

Loaded with virtually everything buyers seek in a contemporary luxury SUV, the Acura MDX pulled off its jack-of-all-trades act to become a 2015 Best Buy winner.
With comfortable accommodations for seven, cutting-edge safety tech, surprisingly engaging driving dynamics, and thoughtful, utility-oriented features, it wouldn't be a stretch to say the 2015 Acura MDX offers a little something for everyone.
But for all its tangible goodness, the MDX is a true standout when it comes to value-for-money. Even in base form, you can take home an MDX with premium standards such as LED headlights, leather upholstery, passive entry and push-button start, a power liftgate, and heated front seats all for under $44,000. Combine that with strong residuals and the best fuel economy in our test group, and the Acura MDX could be considered one of the best values among 7-passenger SUVs – luxury or otherwise.
The Unexpected Benchmark
Being something of an institution, the Acura MDX continues to dominate the segment it helped to establish nearly 15 years ago. Of course, getting in on the ground floor presents obvious advantages, but sales figures and the overall popularity of the MDX have remained relatively unfazed by segment newcomers. Besides affordability, the chief explanation behind this enduring success boils down to elegantly simple packaging. The dash layout, for instance, is both tastefully arranged and easy to navigate. We're also huge proponents of the MDX's single-calibration suspension, which strikes a near-perfect balance between the sofa-soft Lexus RX and the rather stiff-legged Lexus NX 200t without the complexity and cost associated with electronically actuated setups.
Sweetening the deal is Acura's Integrated Dynamics System (IDS) that lets you tailor the throttle response, steering effort and AWD settings (on models so equipped) by way of three driver-selectable modes. If ever a vehicle offered everything you want and nothing you don't, it's the 2015 Acura MDX.
Familial Tendencies
Everyday utility is the area in which the MDX truly distinguishes itself from the pack. Accessing the third row is a cinch thanks to a handy one-touch walk-in function, wide entry point, and low step-in height. Even small children can operate the walk-in feature, as the 2nd-row seat tilts and slides forward with the simple push of an illuminated button. And, unlike some minivans and competitive offerings, the MDX's 2nd-row seat slides with minimal effort.
Fold down both rows of seats, and the MDX serves up a class-leading 90.9 cubic feet of cargo space. Add to that an underfloor storage compartment and multifunctional center console, and you'd be hard-pressed to find a more efficient means of transporting people and gear this side of a full-size SUV.
Useful Technology
In the realm of luxury vehicles, there's tech for the sake of appearing cutting-edge and tech designed to improve your driving experience. As you may have guessed, the MDX is chock-full of the latter – particularly when it comes to safety. Our range-topping MDX Advance and its $57,400 sticker price brought with it collision mitigation braking that automatically applies the brakes if the system detects an imminent impact, full-range adaptive cruise control designed to maintain a preset distance behind the vehicle ahead, and Acura's exclusive Lane Keeping Assist System that provides supplemental steering force to help keep the MDX in its lane. Adding peace of mind to the equation is a smartphone-based remote lock and unlock feature, automatic 911 assist in the event of an airbag deployment, and a stolen vehicle locater.
More 2015 Acura MDX
In addition to a strong showing on our annual list of the 10 Best Luxury SUVs, Kelley Blue Book consumer reviewers rate the 3rd-generation MDX at a very respectable 8.3/10. The first step in becoming a satisfied owner is to build and price your own MDX to unlock helpful shopping tools like Fair Purchase Price, 5-year Cost to Own and more. Of course, you may want to read our 2015 Acura MDX full review first.
2015 Acura MDX Photo Gallery
2015 Luxury SUV Best Buy Finalists

Just because the Acura MDX is our Luxury SUV Best Buy for 2015 doesn't mean it's the right vehicle for you. Case in point: Each of our finalists offers varying degrees of style, performance and prestige. For this reason, the most well-rounded choice might not be the right vehicle for buyers who value a specific discipline above all else. Presented in alphabetical order are the three contenders that gave the MDX a run for its money.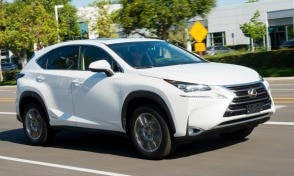 2015 Lexus NX
The Perfect Marriage of Emotion and Sensibility
A triumph in avant-garde design, the first-ever Lexus NX bundles together head-turning style and the latest tech features in an affordable package. The combination of a well-turned-out cabin and supremely comfortable front seats belie the new NX's standing as the least-expensive vehicle in our test pool.
Driving dynamics are another bright spot, a fact corroborated in our full review of the 2015 Lexus NX: "From sharp steering to an adjustable suspension that includes a Sport mode, this little crossover SUV puts its best foot forward." And if you're willing to sacrifice a measure of fun-to-drive for fuel efficiency, the new NX can be had as a hybrid that returns up to 33 mpg combined.
The NX's 5-passenger cabin can be outfitted with feature content once reserved for SUVs costing twice as much. The shortlist consists of a power reclining and folding rear seat, an automatic parking brake, ventilated front seats, a head-up display, adaptive cruise control, and a heated steering wheel.
Given these points, it's safe to say the Lexus NX has a bright future ahead of it.
Build and price your own 2015 Lexus NX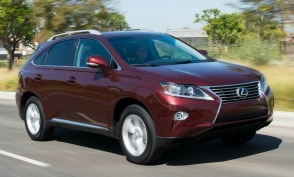 2015 Lexus RX
Righteously Retaining the Sales Crown
That the 2015 Lexus RX is six years into its current lifecycle and still challenging the industry's best is a testament to its long-standing popularity. Plush seating for five along with an upstanding reputation for reliability and quality make the Lexus RX one of the most recommendable SUVs on the market.
Though it won't set the world alight in the handling department, the Lexus RX ably cancels out road imperfections while keeping body roll in check. Cabin noise is pleasantly hushed as well, and the reclining rear seats offer plenty of headroom and legroom for all but the tallest adults. We report on all this goodness at length in our full review of the 2015 Lexus RX.
Like the smaller NX, the RX line offers a fuel-sipping hybrid variant capable of delivering up to 32 mpg in the city and 28 mpg on the highway (30 combined). Value-oriented shoppers who place a premium on comfort and practicality, you may have found your ride right here.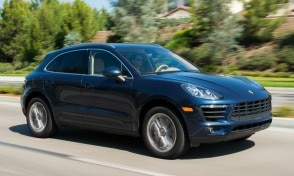 2015 Porsche Macan
The Porsche 911 of SUVs

An all-new nameplate, the 2015 Macan brings classic Porsche design and performance to the compact SUV segment. Headlining this fresh take on luxury sport-utes is a twin-turbocharged V6 tuned to produce 340-horsepower in standard "S" form and 400 horsepower in flagship Turbo models.

Handling dynamics are, as expected, unlike anything currently offered in the SUV marketplace. Our full review of the 2015 Porsche Macan explains, "There are few cars – and far fewer SUVs – that can waltz so cleanly into high-speed corners without a hint of unpredictability."

Best of all, this cornering prowess doesn't come at the expense of comfort. Ride quality and cabin noise suppression is on par with flagship luxury cars, and materials quality is beyond reproach. If value takes a back seat in your purchasing decision, you can't go wrong with the Porsche Macan.