Best Buy Awards Full-Size Car 2015
by
KBB.com Editors
|
November 14, 2014 10:11 AM
Our Full-Size Car Best Buy of 2015 demonstrates the category's most appealing mix of quality, value, features, driving dynamics, fuel economy, safety and more, as informed by yearlong vehicle testing, back-to-back comparisons and our industry-leading pricing and resale value insight.

2015 Chevrolet Impala

Chevy's full-size family sedan's styling, comfort and great value propel it to the top spot as our Full-Size Car Best Buy for 2015.
Balance is the word that best describes the 2015 Chevrolet Impala. Facing off against the 2015 Buick LaCrosse and Toyota Avalon, the Impala offered the best of both worlds: a comfortable ride without sacrificing handling, steering that made low-speed maneuvering a breeze and yet was precise at speed, and best of all, as tested, it was priced thousands less than the competition.
The Impala was completely redesigned for the 2014 model year, and its makeover resulted in a slightly larger package that is cloaked in handsome sheet metal. The clean look also features an understated grille opening, which is a refreshing contrast with the gaping maws that seem to be the industry norm. The interior is equally smart, with high-quality materials. Even though our test vehicle was the mid-line LT model, it had an upscale feel with plenty of soft-touch surfaces, a nice mix of wood and chrome trim, and tight fits.
A Car for the Whole Family
Good looks aren't everything, and the 2015 Chevy Impala also has a practical side to it. This is a full-size family sedan with plenty of room for five, although that 5th person should be on the smallish side if they're going to sit in the middle position of the back bench. The front bucket seats are comfortable and supportive, as are the outboard seating positions in the rear. There's plenty of front and rear legroom, great headroom and enough width across the rear seat to where you're not rubbing elbows with your seatmate.
In addition to a large cabin, the trunk is cavernous, has a good-size opening and the rear seat has a 60/40-split folding feature that allows you to carry long objects, like skis.
Solid Value
As tested, our Chevy Impala LT carries a sticker price of $35,757. Base Impalas sticker for $30,960, which is nearly $10,000 less than the base 2015 Buick LaCrosse or Toyota Avalon. The KBB Fair Purchase Price for our particular Impala is $34,408 with prices ranging from $34,560 to $40,460. Our 5-year Cost to Own (CTO) amounts to $51,405, which reflects a bit more depreciation than the Avalon, which traditionally has had a higher resale value. That car, which carries as-tested sticker of $42,934, has a 5-year CTO of $54,908.
We believe the redesigned Impala, with its additional features and updated styling, may actually have better resale value as time goes on, and that will have further impact on lowering its future CTO.
Bang for the Buck
Even though the Chevy Impala, with its lower sticker price and content level lacks some of the bells and whistles of the competition, it has a full complement of features that should appeal to a broad spectrum of buyers. Among the standard features are dual-zone automatic climate control, power seats and windows, keyless entry, an 8-inch color touch screen (which is motorized and can be raised to reveal a hidden storage compartment), and 4LTE wireless access. Among the options included in our as-tested price are a premium sound system, a backup camera and parking assist, heated front seats, keyless start, and an advanced safety package that includes forward collision alert, rear cross-traffic alert, lane-departure warning and a side blind-zone alert.
Spirited Performance
Equipped with a 305-horsepower 3.6-liter V6, the 2015 Chevy Impala has plenty of power and delivers it seamlessly through a 6-speed automatic transmission to the front wheels. The brakes are solid, with a linear feel, and as mentioned earlier, the electric-assist power steering provides the right blend of ease and precision. Interior sound levels are low, with only a modicum of wind and tire noise noticeable at highway speeds.
Our test panel was unanimous in its decision, with conclusions such as "It just plain works on pretty much every functional level and tosses in a healthy helping of style for good measure as well as offering a solid value story." Another editor on the test panel said, "The Chevy Impala is a big bargain. It has a lot of the room, quiet and presence of a big luxury car, but at a fraction of the price."
For a more complete consideration of Chevy's impressive full-size sedan, read our 2015 Impala full review. Or build and price your own 2015 Chevrolet Impala to unlock this week's Fair Purchase Price, 5-Year Cost to Own and more.
2015 Chevrolet Impala Photo Gallery
2015 Full-Size Car Best Buy Finalists

Best Buy award winner or not, the 2015 Chevy Impala isn't going to answer every large-car buyer's specific needs. Two other full-size 4-door players that ran very strong as finalists in our Best Buy awards competition were the 2015 Buick LaCrosse and Toyota Avalon. Here's a quick look at both of the Impala's biggest value competitors: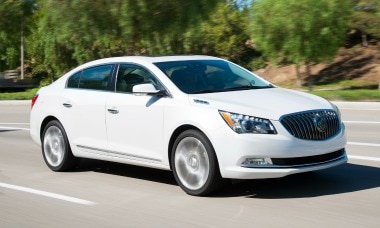 2015 Buick LaCrosse
A Premium Take on the Family Sedan
While the Buick LaCrosse shares its architecture with the Chevrolet Impala, their execution is decidedly different. The LaCrosse is intended as more of a step-up vehicle and that's reflected in the level of equipment and the attention lavished on making sure that this 4-door sedan stays "comfortable, cathedral-quiet and roomy" as KBB praised it for being in our full review of the 2015 LaCrosse.
With its priorities firmly placed on comfort, the Buick LaCrosse coddles its occupants in a cocoon-like cabin, but it comes at a sacrifice to the car's dynamics where the car lacks some firmness both in the suspension and steering.
Still, there are plenty of goodies packed into the LaCrosse, which stickered at $46,240. Among our favorite features were the perforated leather interior with heated and ventilated front seats, a power rear sunshade, easy-to-use touch screen for navigation and connectivity, and the optional head-up display and adaptive cruise control.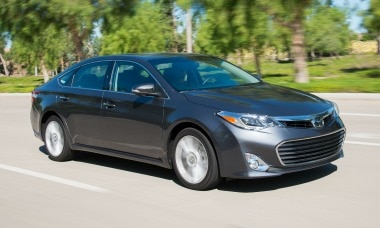 2015 Toyota Avalon
The Good Sport
Not that long ago, if you mentioned spirited driving and Toyota Avalon in the same breath, some people would give you a puzzled look. But spend some time behind the wheel of the 2015 edition, and you'll come away with a different perspective on Toyota's full-size family car. In our full review of the 2015 Avalon we even called Toyota's big sedan, "thrilling to drive." This is a vehicle with sporting intent, from its free-revving 268-horsepower 3.5-liter V6 to its paddle-shift 6-speed automatic transmission.
Therein lies the rub. While the ride is comfortable enough for a family car, there's enough edge to the Avalon that makes the steering a bit heavy in parking maneuvers, the sounds getting into the cabin are more raucous, and the shifts not as seamless as you'd expect from a Toyota. Plus, the styling is a bit too Camry-like to give the Avalon its own identity.
Still, our Avalon Limited model had a long list of standard equipment for its $42,934 sticker, which featured things like tri-zone automatic climate control, HID headlights, rain-sensing wipers, and a full suite of driver warnings and assists. Other options included radar-adaptive cruise control and a cool wireless charging pad for smartphones. Add in Toyota's traditionally high resale value -- it won last year's Best Resale Value Award in the Full-Size Car category -- and the Avalon pencils out nicely for those who want a family car that handles.