Audi Urban Concept - Frankfurt Auto Show
by
KBB.com Editors
|
August 12, 2011 10:12 AM
A unique interpretation of the city transport theme, the Audi Urban Concept mixes high tech with clean green in a most distinctive manner. Rendered in both Coupe and Spyder body styles, the automaker calls it "a technical study whose development was focused on reducing weight, increasing efficiency and concentrating the pure essence of sporty motion." We just call it cool.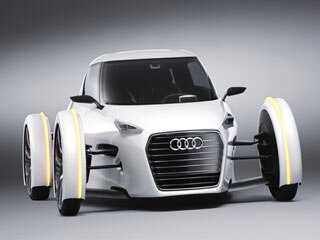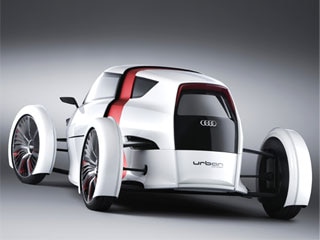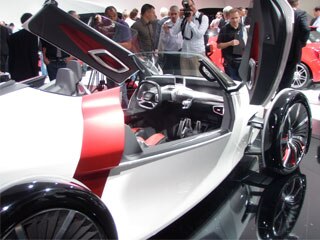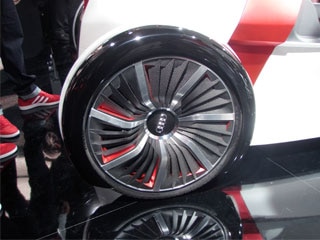 Power for the Urban Concept duo comes from a pair of Audi e-tron electric motors linked to a single-speed transmission and energized by a compact, 7.1kWh lithium-ion battery pack positioned behind the seats. Located between the rear wheels, the motors develop a collective 20 horsepower and 35 lb-ft of torque, sufficient to send either Urban Concept from 0-62 mph - the governed top speed -- in 16.9 seconds. Audi says the cars can travel up to 45 miles as measured on the Euro cycle and be fully replenished in one hour on a 240V home system or 20 minutes on a 400-volt dedicated commercial charger.
To keep mass to a minimum without compromising passenger safety, the Audi Urban Concept's central monocoque structure is constructed of carbon fiber reinforced plastic (CFRP). Taking Audi's styling language to an entirely new level -- from its reinterpretation of the automaker's signature grille to its boldly angular bodywork -- the Urban Concept sits on freestanding 21-inch alloy wheels that feature e-tron-like accent blades. They're wrapped in low-rolling resistance tires -- 125/60s up front and 145/50 in the rear -- which are covered by form-fitting fenders accented with a strip of LED lights.
Borrowing design cues from racing cars, the chassis of the Audi Urban Concept features an F1-style pushrod suspension with lightweight wishbones made from aluminum and composite materials. Weighing in curbside at less than 1,060 pounds, the Urban Concept it's light enough that no power assist is required for the steering gear.
While entry to the Audi Urban Concept Coupe is done by sliding back its canopy and stepping in over the body sill the Spyder variant features flip-up semi-doorlets that provide the same degree of accessibility. Inside, the minimalist cabin is done in red leather and set off with carbon fiber and aluminum trim. The layout of its thin-line racing-style buckets features an asymmetric skew to the 1+1 layout, as does the configuration of its dash vents. Finally, a squared-off aircraft-style wheel and alloy pedal set are fully adjustable to ensure an ideal fit for virtually any driver.