Audi Quattro Concept -- Paris Auto Show
by
KBB.com Editors
|
October 14, 2010 9:04 AM
Loosely based on its already hot RS 5 Coupe, the Audi Quattro Concept was created to help celebrate the 30th anniversary of the legendary car that kicked off the automaker's golden era of all-wheel-drive high-performance. A comprehensive roster of engineering and design modifications have given rise to a car that's more than worthy to carry the mantle of its illustrious predecessor -- and one more than likely to see at least limited production at some point, although no word on how soon or how many. Regardless of whether that eventuality transpires, the automaker has confirmed that "the know-how and technologies of the Quattro Concept body will characterize Audi's entire production model portfolio in the future."
While there's no doubt about its donor platform, the Audi Quattro Concept has a 5.91-inch shorter wheelbase than the RS 5 and a 1.57-inch lower roofline. Like the original 1984 Quattro, it's also a two-seater. To help trim weight, the new Audi Quattro Concept features a combination of aluminum and carbon fiber body panels. Equally key, the car swaps the RS 5's 4.2-liter/450-horsepower V8 for a longitudinally-mounted 2.5-liter turbocharged TFSI inline-five that makes 408 ponies and cranks out 354 lb-ft of torque between 1,600-5,300 rpm. It's backed by a six-speed manual transmission. Weighing in at 2,866 pounds, the new Quattro matches the mass of the original but with 102 more horses on call it can streak from 0-62 mph in 3.9 seconds.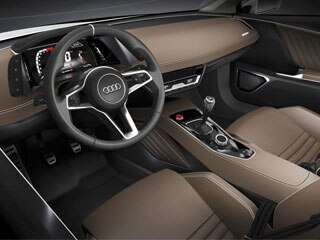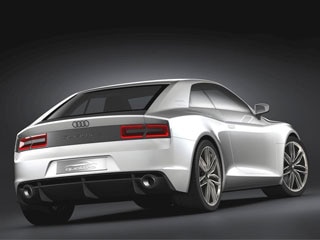 >2010 Paris Auto Show Home
>Mini Scooter E Concept - Paris Auto Show
>2011 Honda Jazz Hybrid - Paris Auto Show
True to its name, the new Quattro Concept is fitted with the latest iteration of Audi's remarkably efficient all-wheel drive system that features a revamped center differential and the torque-vectoring sport rear differential. Stopping power is supplied by carbon-ceramic brakes, and copious pure grip comes courtesy of 275/30 performance tires mounted on lightweight 19-inch alloy wheels that feature racing-style center-lock design.
Although clearly geared for performance -- including a possible return to international motorsport -- the Audi Quattro Concept is surprisingly accommodating to its driver and passenger. Both are secured in lightweight but deeply bolstered bucket seats by four-point belts. A full digital instrument display provides all key system information to the driver and replaces the center MMI screen. It also offers a choice of everyday driving or racing modes, each with its own graphic presentation. On the infotainment front, the Quattro Concept boasts a slick web radio that can use a smartphone to access various internet channels and online services. As a final touch, the new Quattro Concept resurrects the "prayer book" display in racing mode that can provide a driver with detailed information about the route ahead, even if there's no co-driver on board.