Audi buys motorcycle maker Ducati
by
KBB.com Editors
|
April 18, 2012 2:06 PM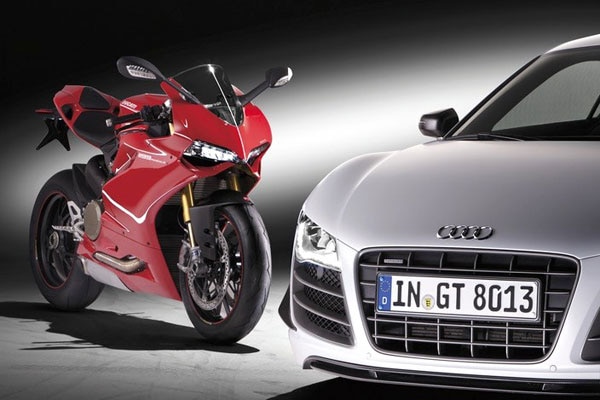 Audi AG has further strengthened its corporate holdings in Northern Italy with the acquisition of famed sport motorcycle manufacturer, Ducati Motor Holding S.p.A. Based in Bologna, Ducati will join Lamborghini and ItalDesign-Giugiaro in the automaker's portfolio, which also falls under the overall Volkswagen AG umbrella. The deal, rumored to be valued at $1.1 billion, will allow Audi to leverage both the prestige and the design expertise of one of the worlds most highly regarded and successful motorcycle operations.
In confirming the purchase - which is still subject to final approvals -- Rupert Stadler, chairman of the board of Management of AUDI AG, declared: "Ducati is known worldwide as a premium brand among motorcycle manufacturers and has a long tradition of building sporty motorcycles. It has great expertise in high-performance engines and lightweight construction, and is one of the world's most profitable motorcycle manufacturers. That makes Ducati an excellent fit for Audi." He singled out "the progressive control systems and special combustion chamber process of Ducati engines, their resulting sporty character, and Ducati's extensive know-how in lightweight construction" as being areas of particular interest and benefit to both Audi AG and the Volkswagen Group.
Although established in 1926 as a manufacturer of components for radios, Ducati didn't start building motorcycles until 1949. Since then, it has become a legend for turning out highly desirable and stunningly quick street bikes as well as equally formidable competition machines. It currently contests both the Motorcycle World Championship MotoGP class with its factory Ducati Corse team and the World Superbike Championship supporting various privateer efforts. Ducati won the MotoGP manufacturers' championship in 2007 and has topped the Superbike standings 17 times in 21 attempts.