Audi A8 Hybrid - Frankfurt Auto Show
by
KBB.com Editors
|
September 20, 2011 2:23 PM
Previewed as a concept at Geneva last year, the Audi A8 Hybrid showed its for-real face in Frankfurt. Set to launch in 2012, at this point, it's only been confirmed for the European market. However, with ever-intensifying CAFE requirements, it's still too early to completely rule out a U.S. appearance at some point down the road.
The Audi A8 Hybrid's drivetrain combines the automaker's 2.0-liter TFSI turbocharged direct-injected inline-four that makes 211 horsepower and 258 lb-ft of torque with a disc-shaped electric motor/generator that develops 45 horses and 156 lb-ft of twist. Located immediately behind the engine in the place normally occupied by the torque converter, the motor is energized by an advanced 1.3kWh lithium-ion (Li-ion) battery pack that Audi claims is smaller and lighter yet more powerful than any existing versions. It's secured in a climate-controlled safety housing at the rear of the vehicle that still leaves the A8 Hybrid with 11.8 cu ft of usable trunk space.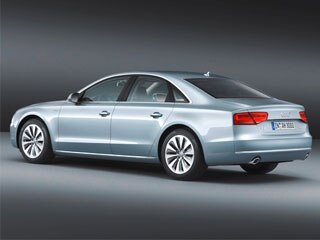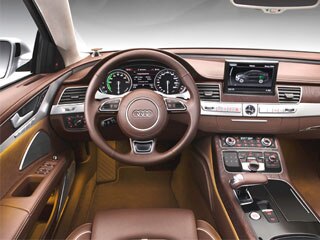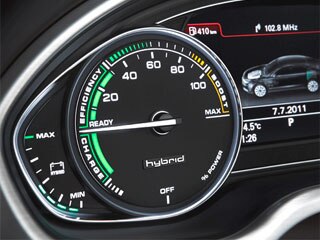 The engine and motor are linked using a computer controlled hydraulic clutch. Collectively, they churn out 245 ponies and 354 lb-ft of torque, all of which is channeled to the front wheels via a highly modified, and converter-less version of Audi's eight-speed Tiptronic automatic transmission. The A8 Hybrid can operate in three different driver-selectable modes (EV/Drive/Sport) that allow for optimized use of either or both power sources. Requiring just 7.7 seconds to hit 62 mph, the Audi A8 Hybrid has a top speed of 146 mph and averages 37 mpg on the EU test cycle. It also can travel at up to 62 mph on electric power alone and travel at 40 mph for a distance "around three kilometers" in pure EV mode. In addition to typical regenerative braking, the control system in the A8 Hybrid is fitted with the same kind of mileage-maxing "sailing" circuitry found in the Porsche Panamera Hybrid that effectively decouples the engine from the rest of the powertrain when the driver lifts off on the accelerator pedal.
Cosmetic changes to the Audi A8 Hybrid are subtle. Outside, special badges on the fenders and decklid, LED headlamps and unique 10-spoke turbine-blade 18-inch alloy wheels with 235/55 tires top the list. Inside, the cabin enjoys the bounty of upline A8 standards but replaces the base instrument cluster with one that swaps the tachometer for a power meter. It also adds a dedicated energy flow screen in the center display that can be access via the MultiMedia Interface (MMI) controller.