Audi A7 Sportback -- First look
by
KBB.com Editors
|
July 27, 2010 3:01 PM
Venturing into a new market segment, the Audi A7 Sportback brings together coupe styling, sedan comfort and wagon practicality in a package the automaker hopes will win new fans and lure upscale buyers who might otherwise be considering a BMW 5 Series Gran Turismo or Mercedes-Benz CLS. Making good on all of the visual and practical promise seen in the original Sportback concept that Audi displayed at the 2009 Detroit Motor Show, the production A7 Sportback goes on sale this fall in Europe and arrives in the U.S. sometime early next year, likely as a 2012 model.
Formally revealed at the Museum of Modern Art in Munich, the new Audi A7 Sportback will slot between the A6 and A8 in scale and price. The car's distinctive exterior styling embodies a well-seasoned mix of current Audi family cues and traditional GT flair that include a sweeping roofline and C-pillar treatment that recall the '70s-era Audi 100 Coupe. The A7 Sportback's prominently arched fenders house standard 18-inch alloy wheels wrapped in 245/55 tires, but both 19-inch and 20-inch fitments will be available. The Audi A7 Sportback matches standard LED tail lamps with Xenon headlamps, however full-LED front illumination will be available as an option. And for an added aero flourish, this wind-cheating grand tourer features an auto-deploying rear spoiler that extends at speeds above 80 mph and slips back down when the car slows to 50 mph.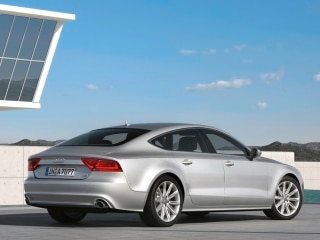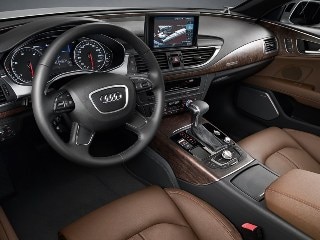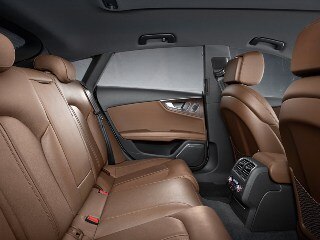 Beauty inside and out
While not sharing the A8's full aluminum space frame construction, the A7 Sportback does make extensive use of aluminum and high-strength steel in its body panels and various chassis/suspension components to help trim weight while increasing rigidity. Inside, this new Audi features a premium look and feel that sets off fine wood, leather and polished aluminum with loads of upline features including the latest iteration of Audi's Multimedia Interface controller and the automaker's first head-up display. Its formidable comfort/convenience option roster lists everything from park assist and quad-zone climate control to state-of-the art navigation and an S-line appearance package. The Audi A7 Sportback offers adult-scaled room for four; but when cargo takes precedence over passengers, the 60/40 rear seatback can be folded to expand capacity of its luggage area from 18.9 to 49.1 cubic-feet -- all of which is easily accessed via the generously proportioned and power-activated liftback.
While European buyers will be able to select one of four V6 engines, two gasoline and two diesel, motivation for the Ameri-spec Audi A7 Sportback has not been revealed. We do know that initially, choices will be confined to gasoline-only here, which would likely mean we'll see the 265-horsepower/3.2-liter and/or 300-333-horsepower/3.0-liter supercharged sixes currently used in the A5/A6. As in Europe, the shifter menu is likely to include Audi's multitronic continuously variable transmission (CVT) on front-wheel drive A7 Sportback models and its 7-speed S-tronic twin-clutch automatic on versions equipped with optional quattro all-wheel drive. Rumors are already flying that both the 4.2-liter V8 and the 5.2-liter V10 could find future homes under the A7 Sportback's hood in S7 and/or RS7 incarnations -- and perhaps as early as this October's Paris Auto Show. But for now, Audi remains mum on these high-performance possibilities.
Enhanced all-wheel drive system
Like the recently introduced RS5, this latest quattro iteration used on the A7 Sportback incorporates a new and even-more-efficient crown-gear center differential in place of the previous Torsen unit. It can automatically vary torque from the normal 40:60 percent front-rear bias to a 70:30 or 15:85 split as traction conditions warrant. The new system brings standard four-wheel torque-vectoring capability and can be upgraded with an optional sport rear differential that adds another degree of left-right power distribution to the rear wheels.
To ensure a proper enthusiast character, the A7 Sportback rides on front/rear multilink steel-spring suspension. However, Audi will offer an optional tauter upgrade that retains the conventional design elements as well as its multi-mode adaptive air suspension that's also been revised and optimized for this application. Directional control is handled by a new electromechanical steering setup that Audi claims is both more precise and more energy efficient than previous designs. The A7 Sportback also will come with the Audi drive select driving dynamics system that allows for custom profiling of responses from all the key vehicle powertrain and suspension elements.
While it's way too early for any official pricing to be released, we anticipate the 2012 Audi A7 Sportback will open somewhere in the $65,000-$75,000 range when it finally does arrive here.