Audi A2 Concept - Frankfurt Auto Show
by
KBB.com Editors
|
September 6, 2011 10:29 AM
Previewing a model expected to launch around 2015, the Audi A2 Concept matches lightweight design and pure electric power with a number of advanced technologies. Like the original A2 that went out of production six years ago, the second-generation successor will retain an aluminum-spaceframe structure and five-door body style. The A2 Concept is fitted with an electric motor that develops 114 horsepower and 199 lb-ft of torque which gets shipped to its front wheels via a single-speed transmission. Energized by a lithium-ion battery pack nestled in its sandwich-style floor, the compact motor has the muscle to take this 2,535-lb one-off from 0-62 mph in about 9.3 seconds and on to a top speed of 93 mph. Audi says the A2 Concept can travel about 125 miles on a single charge, with replenishment requiring roughly four hours using a standard 240V European outlet and 1.5 hours on a 400V dedicated Level III unit.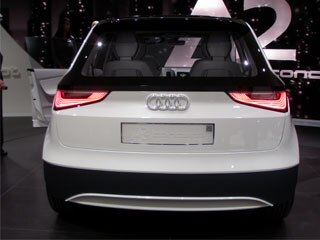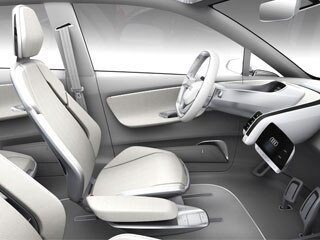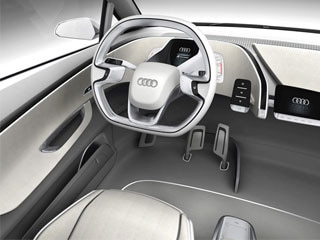 Styling of the subcompact-scaled, five-door Audi A2 Concept reflects a more dynamic take on the automaker's current design language. Up front, a revamped grille opening is flanked by innovative "matrix-beam" LED headlights that deliver higher-resolution, non-glare illumination complemented by fiber-optic running lamps. A thin band of "dynamic lights" positioned at the car's shoulder line serve both as side markers and sequential directional signals and also contain gesture-sensitive sensors that can detect the owner's approach and unlock the doors. It's a similar story out back, where the A2 Concept's "intelligent" LED taillights adapt their brightness to ambient visibility conditions and send a band of red light forward to indicate the intensity of the brake force being applied to other motorists. Even the aft fog lamp breaks new ground. In addition to using laser diodes to create a standard rear-facing beacon, it projects a red warning triangle on the ground immediately behind the car.
Although barely 12.5 feet long, Audi designed the A2 Concept to provide exceptional accommodations for four passengers and an impressive amount of their gear. The clean, airy cabin features a virtually button-and-knob-free dash embellished with aluminum accent trim and a variety of innovative recycled/recyclable interior upholstery materials. Beyond its futuristic flat-bottom steering wheel that allows the driver to manage a host of key functions via special touch-control pads sits a large, 7.0-inch multifunction display bordered by two supplemental readouts.
Other interesting elements in the A2 Concept's easily-reconfigurable passenger compartment include four individual lightweight seats with stow space beneath their fold-up lower cushions, a flat floor, dual-level cargo area and an electro-chromic glass roof that can transition from dark to clear at the touch of a button.