Aston Martin V12 Zagato revealed
by
KBB.com Editors
|
May 24, 2011 1:39 PM
Another showstopper at the Villa D'Este Concours in Como, Italy, the Aston-Martin V12 Zagato fully lived up to its preliminary promise. Created to celebrate the 50th anniversary of the initial collaboration between Aston and Zagato that resulted in the fabled Aston Martin DB4GT Zagato, this modern-day homage is a competition-ready exercise based on the current Aston Martin V12 Vantage. Beyond its own immediate on-track future, the car also will spawn a limited number of street-legal examples.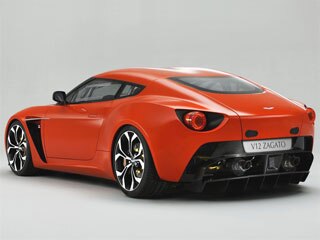 Work on the Aston Martin V12 Zagato began last year, with input for the hand-formed aluminum bodywork coming both form Zagato and Aston's in-house design team headed by Marek Reichman, who noted that the Gaydon-based team refined the basic concept "using a mixture of the latest computer based modeling techniques along with crafting traditional clay models to give a real world idea of proportion, stance and detail." He also stresses that every body panel -- including the car's Zagato-inspired double-bubble roof -- was turned out in the classic manner on a traditional English wheel.
Although no modifications have been made to the 6.0-liter/510-horsepower V12 engine found in the Vantage, the Aston Martin V12 Zagato does feature a full race-spec chassis developed by an engineering team under the leadership of Chris Porritt, who also was responsible for fine-tuning the underpinnings on Aston's One-77 supercar. The double-wishbone front/rear suspension is fitted with the automaker's fully-adjustable Multimatic DSSV Dampers, and the Vantage's bonded-aluminum tub is reinforced and stiffened with the addition of a full steel rollcage. Upgraded racing brakes and a big 120-liter fuel tank complete the additions, while the cabin has a far starker look in the interests of trimming unnecessary weight from the package.
Following its debut at the Villa D'Este Concours, the Aston Martin V12 Zagato will hit the track at the Nürburgring later this month for a four-hour VLN race and is set to return with a pair of identical cars to contest the annual 24-hour race on the fabled Nordschleife circuit, with Aston Martin's Chief Executive, Dr. Ulrich Bez, behind the wheel of one. Bez, a six-year veteran of these events, offered his take on the V12 Zagato -- and what we can expect see at some point down the road. "The Zagato design language is a perfect complement to our design and engineering expertise. After 50 years of the two companies being associated with each other the partnership has produced some of the world's most iconic cars. Matching the technology of the age with the traditional skills vital to deliver such a bespoke and exclusive sports car will lead to a strictly limited run of road going V12 Zagatos."