Aston Martin V12 Zagato - Frankfurt Auto Show
by
KBB.com Editors
|
September 20, 2011 7:39 AM
Although not quite in full production guise, the Aston Martin V12 Zagato still made a stunning addition to the automaker's stand in Frankfurt. Aston initially planned to have both prototypes originally introduced at the Villa d'Este Concours in May and subsequently raced in the grueling ADAC 24 Hours of Nurburgring on the stand; but in the end, only one car made the trip. While retaining its speed-spec cabin appointments, this semi-production model features bodywork Aston says will be virtually identical to the limited series of 150 cars the factory in Gaydon, England, will begin turning out starting in early summer of 2012.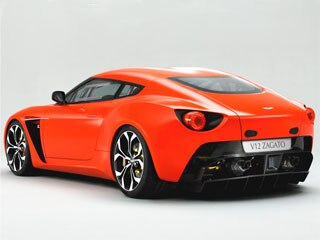 Designed to celebrate the 50th anniversary of the iconic Aston Martin DB4 GT and a half century of Aston-Zagato collaborative design efforts, this modern day counterpart matches its aluminum tub and body panels with various carbon-fiber elements and carries Aston's 6.0-liter V12 under its well-ventilated hood, tuned to make the same 510 horsepower and 420 pound-feet of torque that it does in the Virage S. To ensure that power effectively transfers to the road, the V12 Zagato is underpinned by a full race-grade chassis that matches its double-wishbone suspension with the automaker's fully-adjustable Multimatic DSSV Dampers.
Available only in a coupe configuration, there's still no word on how many Aston Martin V12 Zagatos may make it to the U.S. However, any that do will carry a pricetag on the far side of $540,000.