Aston Martin DB10: Bond's next bolide
by
Bob Nagy
|
December 4, 2014 12:49 PM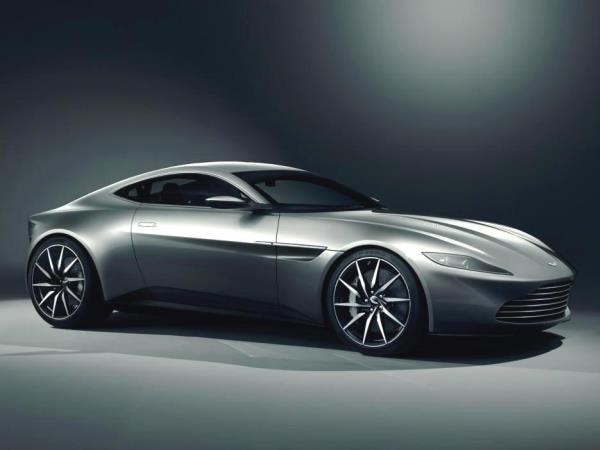 While the successor to the Aston Martin DB9 isn't due until 2016, the automaker has unwrapped a limited run vehicle that offers a preview of the automakers future design direction. Seen here at its Pinewood Studios reveal, the Aston Martin DB10 was crafted by the firm's in-house design and engineering teams specifically to co-star in the upcoming James Bond film "Spectre" which rolls into theatres next November. Aston Martins have been a favorite traveling companion of the world's greatest secret agent for 50 years, beginning with the classic DB5 model in Goldfinger. Aston will build only 10 examples of the DB10 -- which used input from the film's director Sam Mendes - and all are destined strictly for use in the upcoming Bond epic.
Also: The Class of 2015 -- New Vehicles Ready to Roll
As for the DB10's influence on the DB9's replacement, the firm's CEO, Andy Palmer, did confirm this limited-edition exercise "gives a glimpse to the future design direction for the next generation," which some have speculated could arrive wearing a DB11 tag. The new look introduces a bolder, edgier overall character highlighted by a fresh take on the signature AM grille opening, a one-piece clamshell nose, a redrawn greenhouse and more dramatic lighting elements.
Also: Kelley Blue Book Best Buy Awards of 2015
Beyond embracing a good deal of the DB10's exterior design themes, the upcoming iteration of Aston's stunning GT is expected to ride on a revamped version of the current aluminum-intensive VH platform architecture. Still no confirmation as to whether the existing 5.9-liter V12 will give way to a new 4.0-liter twin-turbo V8 sourced from its tech partner Mercedes-AMG, but that swap - which would offer better fuel economy and lower weight with virtually no impact on performance -- seems likely.
More Supercar News...
2014 Aston Martin V8 Vantage Quick Take - join us for a Bonding session
The new 2015 Chevy Corvette ZO6 packs a 650-hp supercharged V8
Say hello to the all-new 503-horsepower 2016 Mercedes-AMG GT