All-new Toyota Camry arrives this fall, Scion iQ EV coming in 2012
by
KBB.com Editors
|
July 1, 2011 11:30 AM
A number of interesting facts emerged during the course of this week's annual gathering of Toyota dealers that took place in Las Vegas. Along with stating that the firm is making far greater strides in its effort to recover from the devastating earthquake and tsunami that hit Japan earlier this spring, Toyota Motor Corporation (TMC) President, Akio Toyoda and several other key execs touched on the company's vision for leadership in the care of future mobility and offered some insight into the product side of things. Most notable among the revelations was confirmation that an all-new Toyota Camry will be arriving this fall and that the Scion iQ EV will arrive sometime in 2012, which is earlier than many had anticipated.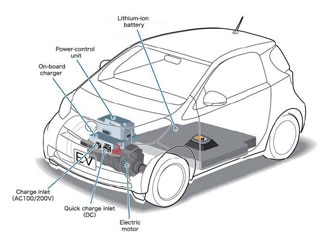 Understandably, none of the Toyota brass was forthcoming with specific details regarding these and other future products. However, Toyoda did say the 2012 Toyota Camry and Camry Hybrid were designed to better meet the requirements of 21st Century motorists and provide "technologically advanced features, a contemporary design inside and out, improved performance and refined ride and handling" as well a offering Toyota's new Entune in-car multimedia connectivity package. The Camry currently is the best-selling passenger car in America, and Toyoda is confident the changes in the next-gen model will help this mid-size sedan maintain that leadership position.
Save for establishing a time window for its arrival here, no new facts about the Scion iQ EV facts emerged, but the vehicle is expected to be functionally similar to the concept model, which powered its front wheels using an electric motor energized by a floor-mounted lenticular lithium-ion battery pack, offered a 65-mile per-charge range and had a top speed in excess of 60 mph.
Other product highlights touted in the automaker's 2012 pipeline include the Prius Plug-in Hybrid, the compact Prius c -- which Toyota anticipates will become the most fuel-efficient hybrid car in the U.S. -- and the RAV4 EV. Slightly further out, Toyota says it remains committed to putting its first fuel-cell vehicle on the road by 2015.