Abarth 500 Special Editions - Frankfurt Auto Show
by
KBB.com Editors
|
September 20, 2011 1:55 PM
Fiat's house performance partner, Abarth, has a long and storied history of creating distinctive enthusiast-grade variations on standard production models -- not the least of which has been the diminutive Fiat 500. While U.S. buyers will have to wait until next year to see an Abarth-spec version turn up here, Frankfurt show attendees were treated to this enticing power trio that show the kind of potential that lies within the feisty 500.
Finished in Blu Abu Dhabi metallic with satin-chrome badging, the Abarth 500 Cabrio Italia is slated for a limited production run of 150 units. The 1.4-liter Turbo T-Jet engine beneath its hood makes 158 horsepower and 170 lb-ft of torque which heads to the front wheels via a five-speed manual transmission. Abarth says that combo will take the 500 Cabrio Italia from 0-62 mph in 7.4 seconds and give it a top speed of 130 mph.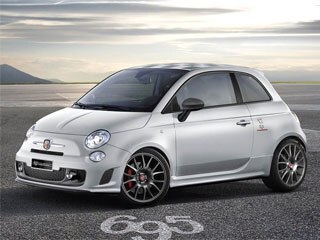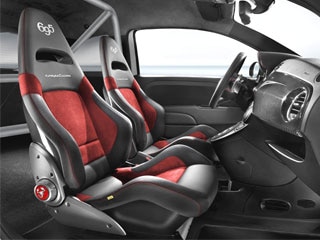 Other mechanical tweaks include a power-vectoring Torque Transfer Control system, upgraded vented-disc brakes with Brembo calipers, 17-inch alloy wheels with a special diamond finish and xenon headlamps. Inside, the 500 Cabrio Italia gets a major makeover that includes color-keyed paint , carbon-fiber and Alutex aluminum-glass fiber trim bits and lightweight Abarth Corsa by Sabelt bucket seats with custom leather upholstery, integrated Abarth Blue&Me MAP satellite navigation and a numbered ID plate.
A two-tone treatment that matches silver with matte-black accenting key the exterior visuals on the Abarth Punto SuperSport, which also boasts a dedicated body kit, restyled front fascia/headlamps and a set of matte-black Abarth-design 18-inch alloy wheels. Its upgraded 1.4-liter Multiair engine makes 177 horses and 199 lb-ft of twist, which can send this capable coupe from 0-62 mph in 7.5 seconds and propel it on to 134 mph. Focused chassis tweaks include stiffer, lower springs and Koni shock absorbers with Frequency Selective Damping as well as bigger brakes and high-performance pads. The cabin gets its own SuperSport treatment, highlighted by Abarth Corsa by Sabelt buckets and a sport steering wheel both trimmed in black leather with red and yellow contrast stitching. Jaeger driving instruments, Abarth-design stainless-steel pedals and an Abarth Blue&Me MAP satellite navigation system round out the mix.
Calling it the firm's first street-legal racing car, the Abarth 695 Competizione takes the Fiat 500 to its logical limits. Wearing exclusive Grigio Competizione Opaco livery on its modestly revised bodywork, this ultra-spec road-and-tracker is fitted with a 1.4-liter Turbo T-Jet engine that makes "in excess of 180 horsepower" and gets a "Record Monza" variable-back-pressure exhaust system that helps boost performance in the mid- and upper rev ranges. This little over-achiever is linked to an electromechanically activated "Abarth Competizione" five-speed gearbox that features both an automatic "Street" mode and a manual "Track" mode that provides shifting via steering-wheel-mounted paddles. Like the 500-based "695 Tributo Ferrari" that preceded it, the Abarth 695 Competizione also gets a full chassis upgrade and Brembo performance brakes with special 17-inch alloy wheels.
Beyond its formidable mechanical enhancements, the Abarth 695 Competizione also features a speed-spec interior that dispenses with the rear seat in favor of an integrated roll bar. While nicely finished in black leather and red Alcantara with an embroidered "695" logo, the Abarth Corsa buckets are made from lightweight carbon fiber, as are the dash and door sills. As a finishing touch, the car gets a unique racing pedal set that features the Abarth Scorpion logo.