Five Star Safety Ratings: Deconstructing a Crash Test
by
KBB.com Editors
|
October 5, 2010 5:35 AM
For 32 years, the National Highway Traffic Safety Administration (NHTSA) has been crash testing new vehicles in order to promote driver and passenger safety. For 2011, the New Car Assessment Program (NCAP) has revised its five star safety ratings system in order to incorporate new safety technologies and has added a new crash test to the five existing procedures - a side-pole crash test.
New for 2011 Side-Pole Crash Test
NHTSA added the side-pole crash test to NCAP for the 2011 model year because not every accident is a perfect head-on or 90-degree collision against another car. The side-pole test angles the test vehicle at 75 degrees and pulls it sideways at 20 miles per hour into a narrow object (25 centimeters wide), creating a collision on the driver's side. This test is meant to simulate hitting a utility pole or a tree. Testing is done with a small female dummy, and the test measures impact on the head, chest, spine, abdomen, and pelvis.
Frontal Crash Test for Driver and Passenger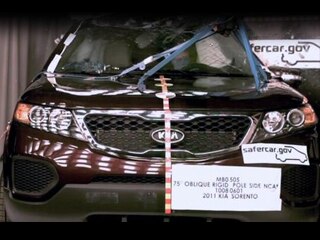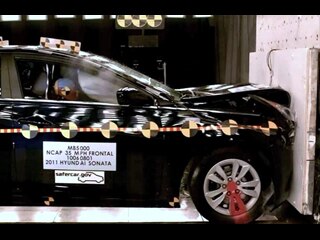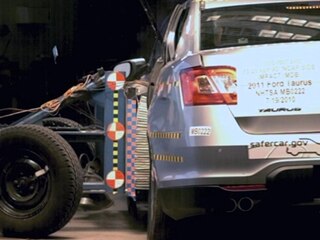 A Closer Look at the New Crash Tests

Currently NHTSA performs the frontal crash test by driving a vehicle into a fixed barrier at 35 miles per hour and rates the vehicle's performance from one to five stars. This test simulates two vehicles of similar sizes crashing head-on. For 2011 NHTSA has expanded the test to include data on crash-test dummies of different sizes (an average-sized male adult and a small female adult) evaluating injury to the head, neck, chest, and legs for the driver and front-seat passenger.
Side Barrier Crash Test for Driver and Passenger
NHTSA also continues performing a side-barrier crash test for 2011. The side barrier crash test simulates an intersection or "t-bone" style accident by hitting a vehicle with a 3,015-pound object travelling at 38.5 miles per hour. Like the frontal crash test, a change for 2011 is the use of varying sized dummies in both front and rear seats to collect injury data.
Rollover Ratings
NHTSA will continue to calculate Rollover ratings by combining metrics with a dynamic maneuvering test. By combining a statistical model (based on center of gravity and track width) and a physical test, NCAP assigns a five-star rating to a vehicle on the likeliness of rollover. The actual maneuvering test takes a fully-loaded vehicle through a fishhook pattern, simulating a high-speed swerve or avoidance maneuver. Instruments measure if the vehicle's inside tires lift off the ground during the swerve. The vehicle is considered to have tipped up if both inside tires lift at least two inches at the same time.
New Ratings Will Be Available Online and On Window Stickers
Every new vehicle sold in the Unites States is required to have a Monroney label or window sticker. A vital part of the window sticker is the NCAP five-star safety ratings. Starting with the 2011 model year vehicles, the new safety ratings will appear on the Monroney sticker as well as an "Overall Ratings Score." The Overall Ratings Score will combine all of the crash test ratings into a single score -- from one to five stars -- to make it easier for buyers to compare the safety ratings between multiple vehicles. For more information of crash tests, five-star ratings and vehicle safety, please look for additional stories at kbb.com or visit SaferCar.gov.