2017 Hyundai Elantra redesign teased
by
Bob Nagy
|
August 20, 2015 4:52 AM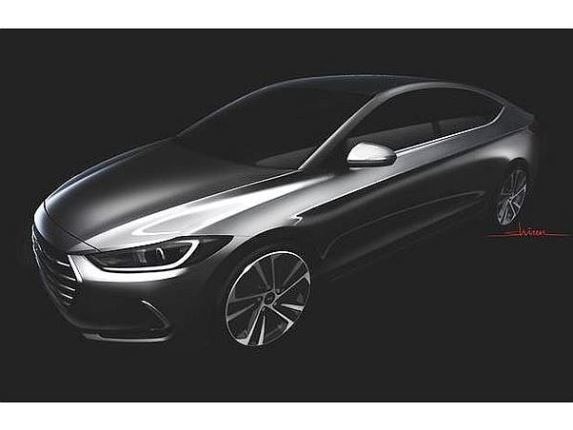 Hyundai released a preview image of the all-new Elantra set to arrive here as a 2017 model, making its first U.S. appearance this November at the Los Angeles Auto Show. The redesigned Elantra will boast bolder and more sophisticated styling that relies on clean, well-defined surfaces, a sleek roofline and prominent fender arches Hyundai says results in a more "active stance." The new Elantra's chic shape is set off by a hexagonal grille similar to the one found on the larger Sonata along with slimmer and more aggressive headlamps, all aimed at distinguishing it from rivals like the Chevrolet Cruze, Ford Focus, Honda Civic, Mazda3,Toyota Corolla and its Kia Forte cousin.
Also: Class of 2016 -- New Cars Ready to Roll
Peter Schreyer, president and chief design officer at Hyundai Motor Company noted: "The all-new Elantra captures the car's unique design characteristics that really place this model in a class of its own. The subtle and innovative appearance enhancements reflect Hyundai Motor's vision...and indicate a move from traditional to modern styling by communicating the new model's comfort, fashion and sporty feel." Expect more news on the 2017 Hyundai Elantra to emerge ahead of its global reveal in Korea where the car goes on sale in October before hitting American showrooms in early 2016.
More Compact Cars...
Check out our Compact Car Buyer's Guide for a look at what's new and what's next.