2016 Kia Sorento: More style, luxury and technology
by
Bob Nagy
|
August 5, 2014 1:50 PM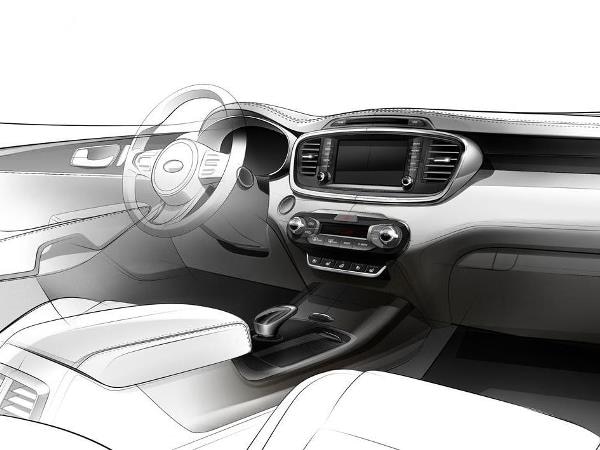 In July, Kia teased the exterior of the fully-redesigned 2016 Sorento that will be unveiled in Korea later this month and reach showrooms here sometime next year. Now, it's providing a sneak peek at the recast cabin of this 7-passenger mid-size SUV. Penned primarily at the automaker's European studio in Frankfurt, Germany, the interior of the third-generation Sorento has a more sophisticated character which Kia says was directly influenced by the look and feel of premium Swiss watches.
Also: The Class of 2015 -- New Vehicles Ready to Roll
In addition to flowing contours that emphasize the additional width and volume of the larger passenger compartment, the new Sorento features more soft-touch materials complemented by real leather accents and detailed stitching. It's also fitted with the latest variation of Kia's Human Machine Interface system that uses a large touch screen that dominates the center dash. More specifics will follow at its unveiling and subsequent international debut at the Paris Auto show in October.
More Midsize Crossovers and SUVs...
We've found plenty to like in our first encounter with the all-new 2014 Acura MDX
The BMW X5 has been significantly restyled and upgraded for 2014
The revamped 2014 Toyota Highlander has a shaper look and a more accommodating character