2016 Jaguar XE shows its real face
by
Bob Nagy
|
July 30, 2014 1:14 PM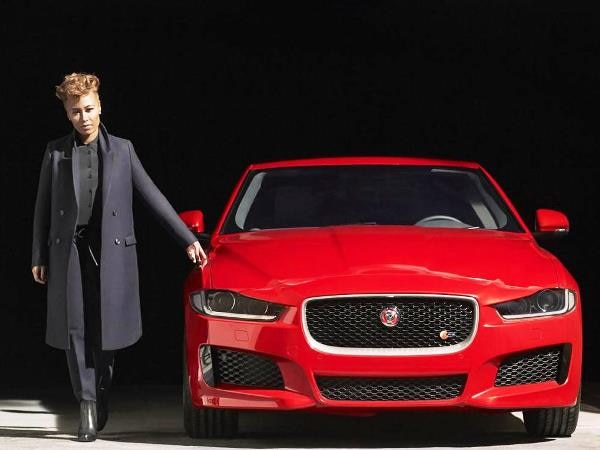 Details about the 2016 Jaguar XE sedan continue to trickle out prior to its formal unveiling in London on September 8. Today's nugget consists of a first look at the front fascia of this new sport-luxury 4-door. Shown here in its performance-oriented S-spec guise, the nose appears little changed from the teaser pic released in March at the Geneva Auto Show. Save for an "S" badge in the grille and possible subtle variations to the headlight details and air intakes, expect no surprises when the drape is finally pulled back.
Also: The Class of 2015 -- New Vehicles Ready to Roll
In case you're wondering who's standing next to this new Jag sedan, it's British singer/songwriter Emili Sandé. Sandé, along with creative artists Stella McCartney and Idris Elba, will be supporting Jaguar's "Feel XE" promotion campaign by creating "experiences that express the exhilaration that's at the heart of the XE." To secure inspiration, the public is asked to submit ideas on what makes them feel exhilarated. These will then be used as inspire a song that Sandé will perform as part of the car's gala unveiling. Should you feel the duly inspired, stop on by Jaguar's Facebook page to add your own idea or two.
More Premium Compact Sedans...
A longer roster of standards adds new appeal to the 2014 Acura ILX
The 2014 BMW 3 Series Gran Turismo puts a new spin on this benchmark sedan
The 2014 Cadillac ATS Crimson Sport Special Edition adds an exclusive edge