2016 Chevrolet Volt teased again
by
Bob Nagy
|
November 21, 2014 1:00 PM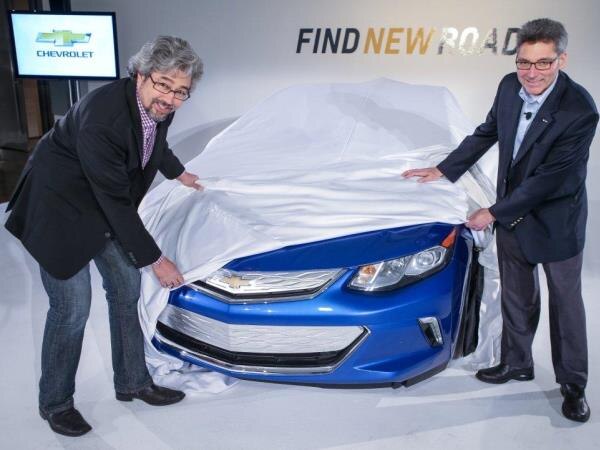 The Los Angeles Auto Show wasn't the only place where new 2016 models were revealed. Chevrolet used an off-site event for current Volt owners to preview a bit of the exterior styling on the next-generation model set to bow in January at the Detroit Auto Show. The latest bit reveals a Volt with an edgier reshaped dual-element grille with silver patterned inserts that reflect the latest divisional cues. The new nose also features redrawn headlamps and vertically-oriented LED running lights.
Also: Complete 2014 Los Angeles Auto Show coverage
Beyond this latest peek at the 2016 Volt, Chevy also shared a few more tech tidbits, among which indicate battery charging will be simpler and more convenient. The new-gen Volt will support a GPS location-based app that will let owners set preferences for their primary charging location and have the vehicle automatically adjust its amperage and time settings when plugged in at that spot. Also new are more intuitive charge status indicators that also provide upgraded alert notifications regarding any anomalies as well as a longer -- and lockable -- 25-foot charging cable.
Also: The Class of 2015 -- New Vehicles Ready to Roll
Last month, Chevrolet offered an in-depth first look at the all-new powertrain in the upcoming Volt. A new more capable lithium-ion battery pack, smaller, lighter electric motors and a new 1.5-liter EcoTec range extender gasoline engine promise to help the 2016 Volt deliver the ultimate 1-2 punch of improved overall performance and even better fuel economy.
More EVs and Plug-in Hybrids...
Come along for a drive in the new 2014 BMW i8 plug-in sports car
U.S. sales of the 2014 Mercedes-Benz B-Class Electric have now begun
The 2015 Kia Soul EV goes on sale here later this year