2016 Cadillac CT6: Lightweight heavyweight
by
Bob Nagy
|
March 13, 2015 7:37 AM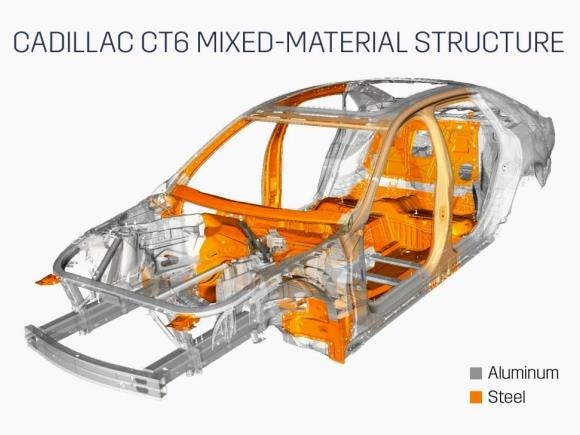 Set for a March 31 reveal at the New York Auto Show, the 2016 Cadillac CT6 is positioned as a new flagship to take on such luxury heavyweights as the BMW 7 Series and Merceds-Benz S-Class. In advance of the debut, Cadillac offered some insight regarding the inner beauty of this all new sedan, stressing the advanced lightweight materials used in its architecture. This consists of a combination of 13 different materials - primarily aluminum and high-strength steel - that have been custom tailored for each specific functional area and joined using a selection of high-tech methods for which Cadillac currently has 21 patents pending.
Master of mass efficiency
"This new construction approach has enabled us to produce a world-class vehicle that is larger in size and includes more standard equipment while achieving lower overall mass," notes Travis Hester, executive chief engineer on the Cadillac CT6 program. Describing it as having "one of the most-advanced body systems we've ever produced," Hester pointed out that the innovative joining techniques give the CT6 the greatest torsional rigidity of any Cadillac to date while the associated weight-reduction synergies and all-aluminum body panels reduce curb weight by 198 pounds. This approach makes the CT6 one of the most "mass-efficient" vehicles in the segment.
Also: The Class of 2015 -- New Vehicles Ready to Roll
The 2016 Cadillac CT6 borrows its key styling cues from the automaker's Elmiraj Concept car. It will ride on a bespoke version of GM's sophisticated Omega II platform and offer the choice of twin-turbocharged V6 and V8 engines backed by an 8-speed automatic transmission and driving the rear or all four wheels.
More Cadillac News...
Johan de Nysschen interview: The Challenge for Cadillac
2016 Cadillac CTS-V boasts 640-hp and a mega-bad attitude - with video
The new 2016 Cadillac ATS-V packs a 455-hp twin-turbo V6